Our project started out with one key question: Why are German-speaking authors so little known in the US, Great Britain or Australia?
Just 3.5 percent of books in the English and American markets are translations. Even if these figures are now a little dated, a visit to an American bookstore confirms that there is a need to catch up.
This led us to another question: Which books written in German are translated into English at all?
And then came an idea: How about compiling a list of these translations?
***Find the list here: 100 Must-Reads
This is not a best-of list and there is no ranking. It's a presentation of good books written by writers you may already know — or should definitely get to know.
Some books are new; others are being rediscovered. These novels and stories traverse both "heavy" and "light" literature, and ultimately give the reader new insights into Germany, Austria, Switzerland — and even Europe.
Needle in a haystack
Where did the research begin?
We browsed publishers' schedules, wrote to publishers, sifted through online platforms. The Goethe Institute also provided lists. We wrote to writers we were sure were translated, and were surprised when this was not the case. We got tips from translators and became a member of online libraries that lend ebooks. We came to believe that such a list did not yet exist. Wasn't anyone already doing this work?
But there were also moments of euphoria when we came across a literary (re)discovery; and enjoyed exchanges with great people who are passionate about literature — and especially, about German-language books.
We had discussions about why just under a third of the authors on the list are women. Regretfully, this is largely owing to a distinct disinterest in the industry. Female writers continue to find it much harder than their male counterparts to find a publisher (read the related essay by translator Katy Derbyshire), let alone get translated into English. This has changed somewhat in recent years, but equality remains a distant dream.
Some of the authors we have presented such as Emine Sevgi Özdamar, Saša Stanišić, Alina Bronsky or Yoko Tawada first learned the German language as adolescents or adults — and yet are an integral part of the German literary landscape.
Meanwhile, some older works by the likes of Heinrich Böll reveal themselves as surprisingly contemporary when read today. We also hope that other authors like Gregor von Rezzori are rediscovered.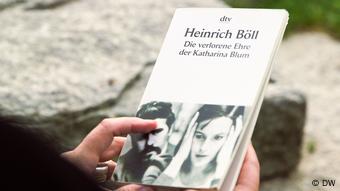 Mid-century titles like Heinrich Böll's "The Lost Honor of Katharina Blum" are ripe for rediscovery
Encouraging debate
The unfortunate line between "the serious" and "the entertaining" that was once so typical of German-language culture is becoming more porous. While the line can still be felt, we have avoided such a border dispute.
We have books that are simply exciting and perfect for vacation reading (for example, The Swarm by Frank Schätzing). We have selected books that are mostly in good humor (such as Wolfgang Herrndorf's); and books that immerse the reader in another world (Joseph Roth and Robert Seethaler). You will find tragicomic books (Jurek Becker) on our list, experimental ones (Ilse Aichinger), somber works (Erich Maria Remarque), as well as bold fantasies (Cornelia Funke).
By both reinforcing and refuting clichés, our selection should simply inspire you to read. Perhaps your favorite writer is missing? Don't worry. You are guaranteed to discover something new. But of course you are free to argue with us. We encourage debate.
Books to watch
We have also produced a video for each book in both German and English. We've searched out locations to make you curious, and to replicate the atmosphere you'll find when reading the novels.
The video for Christa Wolf's GDR story, They Divided the Sky, was filmed in front of one of the last vestiges of the Berlin Wall. We were able to film the clip for Bernhard Schlink's The Reader in a historic Berlin tram where Stephen Daldry's film version of the novel was also shot.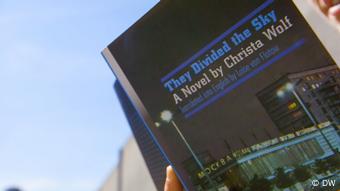 Christa Wolf's novel "They Divided the Sky" is set in divided Berlin
We were also at the Jewish Cemetery in Weissensee; in Bertolt Brecht's last apartment in Berlin; in many museums, parks, streets; in cafés and bars; in our own homes and those of friends. So many have helped us find the right locations in which to create presentations that will surprise you.
By "we" I mean the whole team of DW writers and editors who, together with myself and David Levitz, contributed their knowledge and ideas to this project. In short: their literary heart and soul.
But wait, there's more
If you prefer it in black and white, then you will find a corresponding text for each book on our online page that includes background and author information and, most importantly, tips and links to where you can pick up the books.
And now finally: Let yourself be seduced. Don't be intimidated. Start reading. A good book is the best place to start.

Sabine Kieselbach is a literary scholar who started reporting on books and culture for newspapers and radio stations while studying at university. Since 1994 she has been an editor at DW, and since 2016, DW's literary correspondent. Together with David Levitz, she presents the list of 100 German Must-Reads in short web videos, which you can view on all DW social platforms.