South Africa's President Jacob Zuma is in Zimbabwe on Thursday for a two-day state visit to attend the inaugural session of a bi-national commission. Issues of trade, political relations and immigration are expected to top Thursday's agenda.
Zuma will co-chair the sessions alongside his Zimbabwean counterpart President Robert Mugabe and both leaders will sign a number of agreements. The commission was established in April 2015 to steer bilateral relations between the neighboring countries.
South Africa is Zimbabwe's largest trading partner, albeit a huge trade imbalance. In 2015, exports from South Africa to Zimbabwe reached 24.8 billion rands (US$1.8 billion), while Zimbabwe exported 2 billion rands; down by 55 percent from 4.4 billion in 2005.
Show of neighborliness
Harare sees Zuma's visit as affirmation to its policies from of its southern neighbor. South Africa had also backed Zimbabwe in 2009 when the country faced possible United Nations sanctions over its alleged gross human rights violations.
"The visit is not timely because the characters of the two protagonists, Mugabe and Zuma, leave a lot to be desired as far as domestic policies are concerned," said political analyst Alexander Rusero.
Zuma's visit comes at a troubled period amid strong criticisms of his intentions to block the release of a controversial report dubbed 'State Capture.' Even though he backed down from his bid on Wednesday to block the report, opposition parties are calling for his resignation because of allegations that he allowed the wealthy Gupta family to influence his ministerial appointments.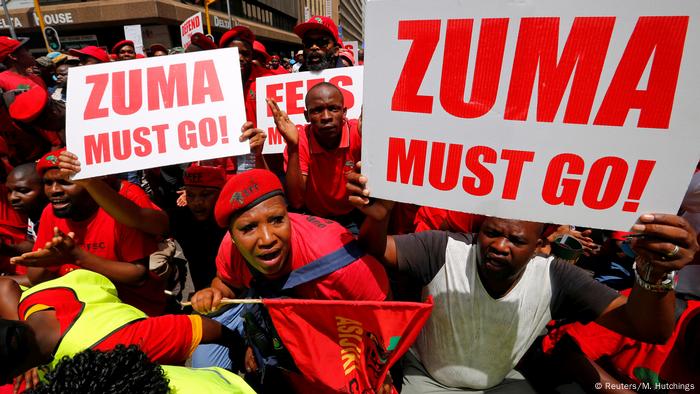 Thousands of protesters are calling for the removal of President Jacob Zuma
Zuma is also being heavily criticized for requesting to pull South Africa from the International Criminal Court.
"This visit could just be symbolic," said Rusero. Mugabe is as well under significant pressure by disgruntled Zimbabweans, who are pushing for policy changes. "Zuma will not speak out on the volatility of Zimbabwe's politics as he is equally facing similar troubles at home," Rusero added.
"South Africa's attractiveness has become questionable owing to the leadership of President Zuma. In the eyes of the region, the meeting is an alliance of questionable characters," Rusero said.
Bad economic prospects
Zimbabwe is in dire need of a rescue package in the face of a financial crisis affecting the country. Expectations are that Zimbabwean authorities could negotiate for a deal.
But the country's history of credit defaults diminished its chances of swaying creditors. Zimbabwe owes international lending institutions in excess of 10 billion dollars. Economists have suggested adopting the South African rand as its official currency but Harare is not keen on the idea.
"Zimbabwe stands to benefit if it adopts the rand," said economic analyst Prosper Chitambara. "We could use the rand unofficially as a reference currency and use the US dollar as a reserve currency. Trading in the rand will reduce trade costs between South Africa and Zimbabwe."
Chitambara added that the southern African nation's hostile business environment needs serious fixing.
"We need to deal with issues of production to increase exports to South Africa. The appreciating US dollar has made exports to South Africa more expensive. There is need to enhance competitiveness of Zimbabwean companies," Chitambara said.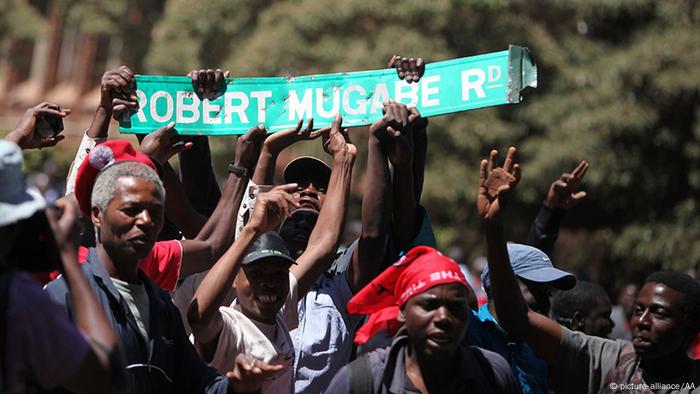 Zimbabweans protesting against President Robert Mugabe and his government in August this year
Zimbabwe's cash struggles
Cash shortages in Zimbabwe reached critical levels leading government to introduce bond notes as its de facto currency. A non-legal currency meant facilitating cash liquidity in the country.
Despite resentments by citizens including court challenges, President Mugabe on Tuesday issued a presidential proclamation to legalize the bond notes.
Zimbabweans fear the return of the 2009 hyperinflation crisis, when the country reached the highest inflation in the world. By mid-November 2008, inflation had peaked at estimated 231 million percent.
The country printed 10 dollars to 100 trillion notes in one year. "I have never been so scared about the situation in Zimbabwe," said Munyaradzi Chiremba, a 28-year-old computer technician. "This is the last straw. I cannot bear the thought of the 2009 hyperinflation era. If it happens again, I have no choice but to leave the country."
The bond notes are seen as decoy intentionally carried out by the government to ease its budgetary pressures. Government workers have not been receiving salaries on time, resulting in industrial actions.
"We are going to see a struggle of the financial sector. The financial system shall be under immense pressure," economic analyst Chitambira said.