Morgan Tsvangirai,who died in South Africa after a long battle with colon cancer, was laid to rest on Tuesday (February 20, 2018) at his rural home in Humanikwa Village in Buhera, 200km (124 miles) southeast of the capital Harare. Thousands of people from all walks of life, including his long time rivals, came to pay homage to the opposition icon.
However, the funeral ceremony was earlier interrupted after scuffles broke out between supporters of different factions of Tsvangirai's MDC-T party. According to the online site of the Zimbabwean Times, senior party officials were chased away by angry youths.
Immediately after Tsvangirai's death, Nelson Chamisa, one of the party's vice presidents, took control of the MDC-T. While endorsed by the late leader's son, Morgan Tsvangirai Jr., Chamisa's attempt to succeed the late leader is contested by two other deputies, Thokozani Khupe and Elias Mudzuri.
Friends and foes pay hommage
The weather was somber at the funeral. But the rain could not keep out thousands of supporters and friends, as well as some longtime rivals in politics and government.
Leaders from several opposition parties, the ruling party (ZANU PF) and labor movements from across Africa attended the funeral. Among them were Kenya's opposition leader Raila Odinga and South Africa's Moeletsi Mbeki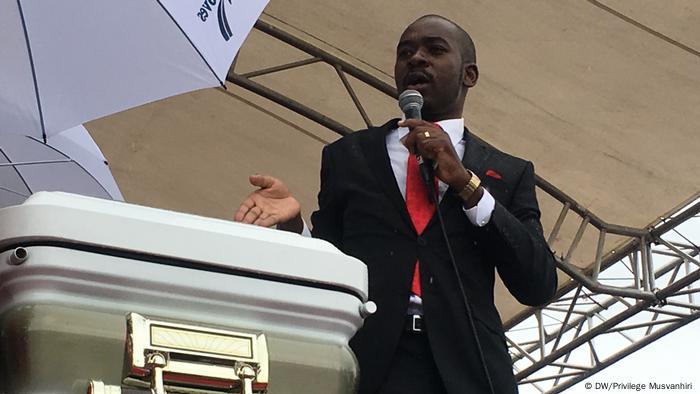 Nelson Chamisa's bid to take over the leadership of the MDC-T is being disputed within the party
Zimbabwe's ruling ZANU PF, which Tsvangirai fought all his life, also paid homage to the late opposition leader's central role in strengthening democracy. Parliamentary speaker Jacob Mudenda called Tsvangirai a "titan of democracy. Nobody will take away from him this status. He earned it through his public commitment to the complete liberation of all the people of Zimbabwe." Perhaps alluding to the war of succession in the making, Mudenda also called on the MDC-T to stay united.
The MDC in disarray
Tsvangirai's death leaves his party in a difficult situation five months from the next presidential election. The present infighting does not bode well for the party's chances against President Emerson Mnangagwa. Political analyst Alexander Rusero says the conflicts are a result of the failure by African leaders to groom successors. According to Rusero, Tsvangirai's death will impact negatively on any "meaningful opposition politics" of the MDC-T in the near future. "The departure of Tsvangirai, especially at the time when there were attempts by the opposition to form an alliance, is a big blow," Rusero told DW.
Rusero believes that, with Tsvangirai gone, "there is no comparable personality even close to what he stood for in terms of principles, consistency and charisma."
DW's editors send out a selection of the day's hard news and quality feature journalism. You can sign up to receive it directly here.