The vice president of the Zimbabwe Movement for Democratic Change party announced the death of Tsvangirai on Wednesday. The opposition leader passed away after a long battle with cancer.
"I can confirm that he died this evening. The family communicated this to me," Elias Mudzuri said. "It is sad for me to announce that we have lost our icon and fighter for democracy,"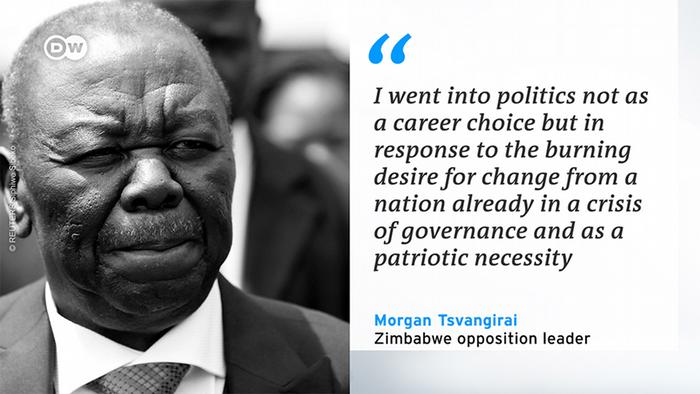 An opponent for the president
It's not easy to beat somebody like Robert Mugabe at his own game. And winning over the hearts and minds of Zimbabweans was definitely a game that Mugabe had played for many years. But Tsvangirai did manage to beat him a number of times.
There were the 2008 elections which Tsvangirai won, albeit with a margin too small to win a majority. Then there were reforms which would have given Mugabe more power and which Tsvangirai and other opposition leaders managed to stop. Tsvangirai was a man who didn't take part in the liberation and was 30 years younger than Mugabe, but who still managed to become the figurehead of Zimbabwe's opposition and Mugabe's biggest challenger.
Read more: Zimbabwe opposition leader Morgan Tsvangirai hints he will step down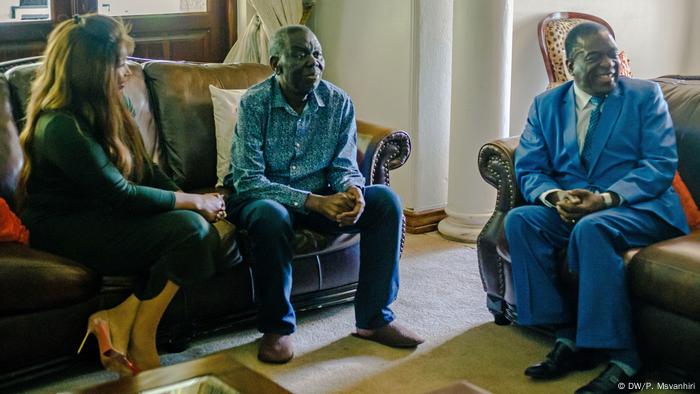 Zimbabwe President Emmerson Mnangagwa visits sick opposition leader Morgan Tsvangirai
"Without Morgan we could not have been talking about democracy," says Ostalos Gift Siziba, leader of the Zimbabwe National Students' Union. "He was fighting the authoritarian regime as far back as the 1990s when Robert Mugabe was still organized with a ruthless, violent machinery."
A die-hard trade unionist
Born in 1952 as a son of a farmer and mineworker, Tsvangirai left school early and worked for almost ten years in a nickel mine, finding his calling in the mine workers' union. As a unionist, he joined the new ruling ZANU-PF party at in 1980 at the dawn of independence. Like many at the time, he admired Mugabe and was later criticized for failing to condemn the crackdown on the opposition in Zimbabwe's Matabeleland in the late 1980s.
Read more: Zimbabwe's new cabinet: Little sign of change
It was only in the mid-1990s that Tsvangirai became openly critical of Mugabe's regime. "The first thing that I knew about Morgan Tsvangirai was the campaign that he did from Zimbabwe Congress of Trade Unions. I saw planes dropping papers with a warning about the price of bread going up to 50 Zimbabwean dollars. At the time bread was below 5 dollars," remembers Farai Gwenhure from the Tajamuka/Sesjikile campaign, a youth movement that deals with the problems facing Zimbabwean young people. A short time later, the prices skyrocketed even higher. Food queues were a daily sight and bundles of Zimbabwean dollars soon became worthless. In the 2000s, the US dollar and South African rand replaced Zimbabwe's currency.
Read more: Morgan Tsvangirai, Zimbabwe opposition leader, airlifted to South African hospital
A voice of opposition
"Tsvangirai led mass demonstrations and worker boycott demonstrations. He negotiated for workers' rights in Zimbabwe," recalls Morgan Komichi, deputy chair of Tsvangirai's MDC-T party. At the time, Tsvangirai, still a member of ZANU-PF, was the Secretary General of the Zimbabwe Congress of Trade Unions. Together with civil society actors, student unions and church groups, he became a leader of the National Constitutional Assembly, a non-governmental organization which organized protests and became highly critical of the ZANU-PF government. In 1999 Tsvangirai formed the Movement for Democratic Change (MDC) which became Zimbabwe's largest opposition party.
"Robert Mugabe wanted to build a one party state in this country — an idea which was bought by Zimbabweans," explains Siziba from the Zimbabwe National Students Union. "For Morgan Tsvangirai to introduce a new song of social democracy was not an easy struggle." In 2002, Tsvangirai made his first attempt as the MDC's presidential candidate. The 2000s saw him in and out of jail for charges or treason and an allegedly planning to kill President Mugabe. He was severely tortured in police custody, which left him hospitalized with a cracked skull.
In 2008, when much of the world had turned its back on Zimbabwe, Tsvangirai was seen as the best person to deal with the political and economic crisis. At his second attempt at the presidency, he actually won the election, but lacked an outright majority to form a government. President Mugabe then won the re-run of the election, which Tsvangirai and the opposition boycotted on the grounds that they believed it would not be fair. What followed were months of negotiations and a power-sharing deal that was brokered by South Africa. Tsvangirai had not managed to defeat Mugabe outright, but he had managed to get foot into government as Prime Minister, with a shared ZANU-PF and opposition cabinet.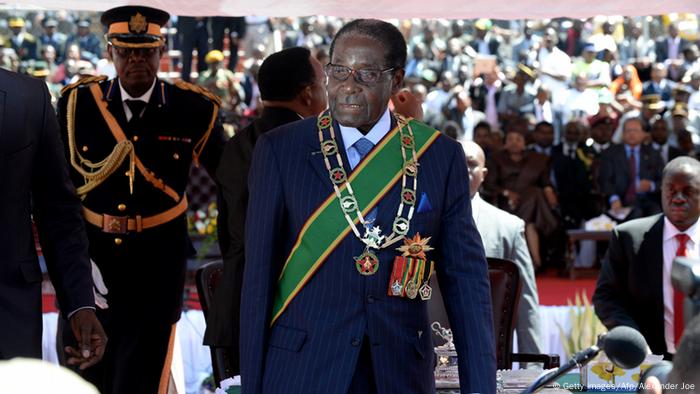 Ex-president Robert Mugabe's inauguration in 2013 was delayed after opposition leader Morgan Tsvangirai challenged the election results.
"The DNA of politics in Zimbabwe has always been aligned to ZANU-PF," explains Gwenhure. "Everybody thought government means ZANU-PF. But when the [power-sharing deal] was signed under the leadership of Tsvangirai, everyone knew that there are some other Zimbabweans who can do it differently, stabilize the economy and so on."
The unity government
The unity government lasted one political term, but Tsvangirai felt that Mugabe and ZANU-PF were still calling the shots. He spent time touring the world in an attempt to repair relations with foreign governments and international institutions, but many Zimbabweans saw little change in their lives. In an interview with DW, Tsvangirai admitted that opposition support suffered as a result. "It was not a perfect agreement but I think we managed to save the country. There may have been some damage because of the demobilization that would have taken place in the opposition forces."
In spite of personal tragedies, such as the death of his wife in a car crash which he survived, and the death of his grandson in a swimming pool a short while afterwards, Tsvangirai remained a career politician until the end. He lived to see the downfall of his rival Robert Mugabe, albeit not through a victory for the opposition but through a coup in Mugabe's own ranks.
For the Zimbabwean opposition movement, as well as his own party which saw several splits over the years, he remains a respected icon. "Problems that happened in the party could be here and there but he has managed to hold on to the movement," says Komichi. "Whenever there were challenges or splits, people would remain inclined to him and up to now the movement is going on. He's the torch bearer, he's the visionary."
In late 2017, Tsvangirai spoke of a new generation taking over the reins in Zimbabwe. "I am looking at the imminent prospect of us as the older generation leaving the levers of leadership to allow the younger generation to take forward this huge task that we started together," he said. Both the generation of Mugabe, who was 93 when he was forced to step down, and himself at 65, belong to the old guard. The question now is how the next generation will go forward.
Privilege Musvanhiri contributed to this report.