Mnangagwa handed the foreign ministry to major general Sibusiso Moyo, the army commander who on television two weeks ago declared the military intervention that led to last week's popular ouster of veteran leader Robert Mugabe.
The new president in his televised announcement late Thursday also named Air Marshal Perence Shiri as lands and agriculture minister.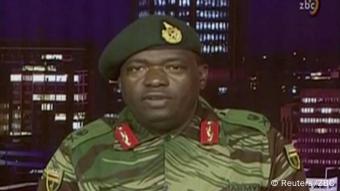 November 15: Moyo announces military takeover
In his inauguration speech last Friday, Mnangagwa vowed to compensate thousands of farmers evicted during Mugabe's regime and to put tracts of land back into production.
The post of information minister went to Chris Mutsvangwa, the leader of Zimbabwe's 1980 independence war veterans movement who spearheaded mass protests last week to force Mugabe out of office.
Also included were some ministers from Mugabe's former cabinet, including Patrick Chinamas, who returns to the finance ministry.
He had been removed by Mugabe during a reshuffle in October.
Opportunity lost?
Mnangagwa, who was inaugurated as president last Friday, did not include figures from the decades of opposition to Mugabe.
Interviewed just before the president's announcement, main opposition leader Morgan Tsvangirai said Mnangagwa had a "very small window" of opportunity to show that he was different from Mugabe.
"No dialogue" had taken place with the new leadership, Tsvangirai said.
One critic, lawyer Alex Magaisa tweeted a photo of Mugabe and his wife, Grace, laughing with the words: "when they saw the new cabinet."
Former finance minister Tendai Biti tweeted: "The honeymoon is over even before it had begun. What a shame. What a missed opportunity."
Call for fair elections
Last Monday, the leadership of Zimbabwe's Catholic church urged Mnangagwa to work toward economic recovery and "free and fair" elections in 2018.
On Wednesday, a Harare court ruled that voting rights should be extended to people born in Zimbabwe to foreign parents, many from adjacent nations such as Malawi.
About 2 million so-called "aliens" would be entitled to vote, said Douglas Mwonzora, the secretary general of the opposition Movement for Democratic Change (MDC)
Political analyst Barnabas Thondlana said the court ruling narrowed the electoral chances for Zimbabwe's ruling ZANU-PF party.
ipj/rc (AFP, AP)