As dropping rainfall levels continue to dry up many of the dams generating power in the country, Zambians have been left searching for alternative energy sources. Amid the country's energy crisis, the government has rationed electricity and a shortage of sustainable options has led to a skyrocketing demand for charcoal.
While a new market for the black fuel has generated economic opportunities for many, its harvesting, production and burning comes at great cost to the Zambian landscape.
Economy versus environment
As more and more people turn to charcoal prices have rapidly increased. A 50 kilogram bag of charcoal now costs around 15 euros ($16 USD) compared to 8 euros ($9 USD) a year ago.
Emma Mwanza sells charcoal at Mtendere Market in the capital Lusaka. Her sales, she said, have helped improve her personal finances, allowing her to better take care of her children.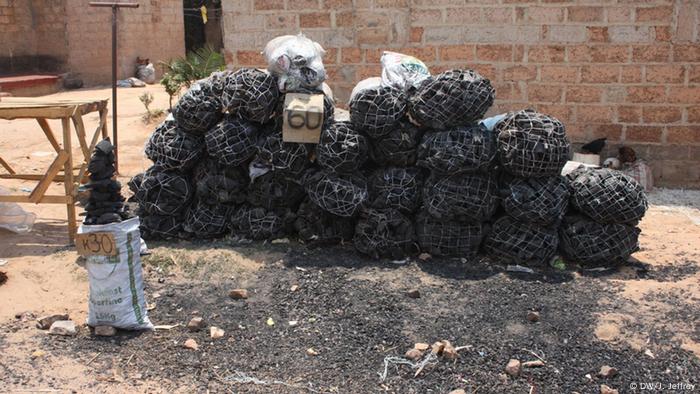 Charcoal prices have rapidly increased, providing a reliable income for many Zambians.
"I continue to sell charcoal because I find a lot of money in it. In a day I can make 200 euros or so even more," Mwanza said. "I raise my children through this business - I take them to school,I find food, I bought a house using this business. I can't stop it because the business, I have found, is better for me than anything else."
Despite its economic advantages, this charcoal boom is threatening the country's already fragile environment.
Charcoal is made using wood, which means hundreds of thousands of hectares of woodlands must be felled for its production. Forests cover around 60 percent of Zambia's territory or some 45.8 million hectares of land. The country already has one of the highest deforestation rates in the world, clearing around 300,000 hectares of forest per year, according to the United Nations Forestry Department.
Unsustainable deforestation rates
Although the rate of forest felling is acknowledged as unsustainable, the lack of alternative energy supply has pushed Zambia into a 'charcoal trap,' which must be regulated, said Mwape Sichilongo from the World Wide Fund for Nature.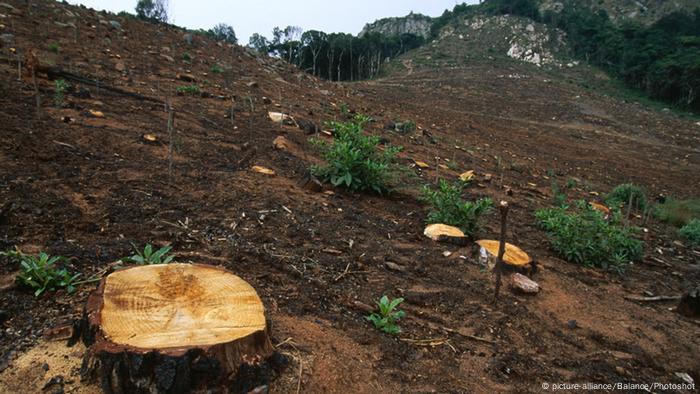 Some 300,000 hectares of woodland in Zambia are cleared every year.
"If over 90 percent of the population depends on charcoal then it's definitely not sustainable," Sichilongo said. "Charcoal production means removal of trees and with the increasing pressure and the increasing prices, it means it's also driving deforestation."
Although the charcoal industry is supporting livelihoods especially in rural areas, the consequences of increased deforestation and land clearing outweigh any economic benefits, Sichilongo added.
In Zambia, deforestation has devastated supplies of food like mushrooms and wild fruits on which people and animals both depend. Forests are also a key part of protecting further climate damage as they significantly impact the amount of carbon dioxide in the atmosphere. The more woodland there is, the more carbon is removed from the air and absorbed back into wood, leaves and soil.
Cyclic trap
Cutting trees down to replace other energy sources only further compounds the impact that climate change is having on diminishing alternative energy sources, like water.
Experts have warned that weather extremes are likely to become more frequent as the world becomes warmer. The only way to lessen the possibly devastating environmental impact is to reduce global greenhouse gas emissions.
Last September, Zambian President Edgar Lungu signed the Paris Agreement, committing to reduce greenhouse emissions and combat global warming. Late last year, Environment Minister Jean Kapata also announced plans to ban charcoal burning. While a ban on charcoal would be a step towards addressing environmental threats, it offers no solution for Zambians who have no other alternative, experts argue.
Friendlier alternatives?
Ireen Chipili is the spokesperson for the government-run Zambia Environmental Management Agency. In the absence of reliable hydro-electricity, she insists that alternative sources of energy have to be put in place first, before charcoal can be banned.
"It is an intervention, but I think as a country we need to be more broad-minded in dealing with the issue. I mean first of all we need to look at why a significant population is using charcoal," Chipili said. "We also need to embrace other approaches of energy. We need to remove reliance on hydro power, and promote alternative sources of energy such as solar."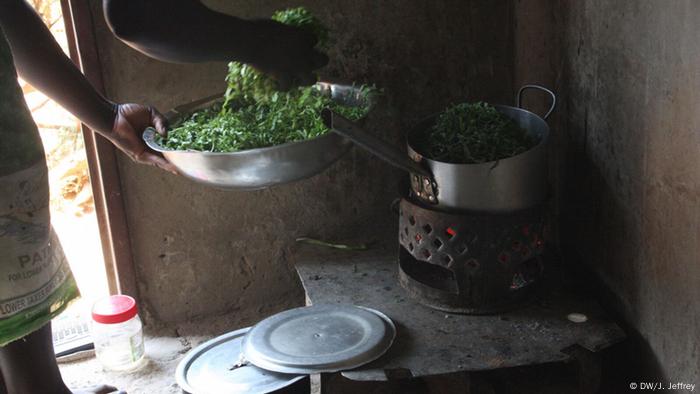 Without reliable alternative energy sources, many Zambians will continue to burn charcoal.
Elias Chipimo, the president of the Opposition National Restoration Party, said that the country needs to invest in environmentally-friendly methods of power generation like solar and thermal power to ensure its citizens don't have to turn to charcoal when the hydropower supply fails.
"The problem with just relying on hydro is that it's very costly to set up the hydro infrastructure," Chipimo said. "What we are saying, is that through this alternative energy we can actually deliver development in a sustainable way and at the same time protect the environment and that is an amazing combination which will help us with issues of load shedding (the deliberate shutdown of power) and that will help us reach out and develop sectors that have been abandoned for a very long time."