The euphoria knew no bounds back then, in 2008. "Yes We Can" was a slogan that motivated the supporters of charismatic campaigner Barack Obama. The Illinois senator promised to bring "Hope and Change" to the United States. "I know I haven't spent a lot of time learning the ways of Washington," he said in 2007, announcing that he was seeking the Democratic nomination. "But I've been there long enough to know that the ways of Washington must change."
Four years later, the optimism has been replaced by disillusion. "We still have a lot to do," Obama has had to admit on his campaign trail. In his speech at this year's Democratic National Convention in Charlotte, North Carolina, he recalled his first big public appearance at the DNC in Boston, 2004, and said, "Eight years later that hope has been tested by the cost of war, by one of the worst economic crises in history and by political gridlock that's left us wondering whether it's still even possible to tackle the challenges of our time."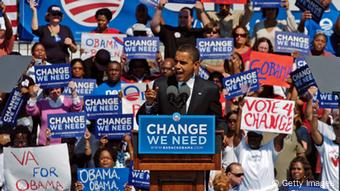 The euphoria of 2008 has been replaced with disillusionment
Changing course
He argued that the coming election was decisive for the future of the country in virtually every single area - the economy, taxes, finance, the reduction of the budget deficit, energy policy, social policy, education policy and national security. "It will be a choice between two different paths for America, a choice between two fundamentally different visions for the future," he said, adding that it was his understanding of the government's duties that separated him from his challenger Mitt Romney.
Obama has not achieved many of the ambitions in his first term in office, which is why he is asking for a second. "And the truth is, it will take more than a few years for us to solve challenges that have built up over decades," he said in Charlotte. The list of things left undone is long, and at the top of it is leading the country out of its economic crisis. An unemployment rate of over eight percent is alarming by American standards, and the US economy is only recovering slowly, despite the billions of dollars of state aid that were pumped in at the start of 2009.
But other initiatives, like immigration reform, were left by the wayside, or, like Wall Street reform, were only half-heartedly implemented. And the foreign policy promise to close Guantanamo Bay was also left unfulfilled.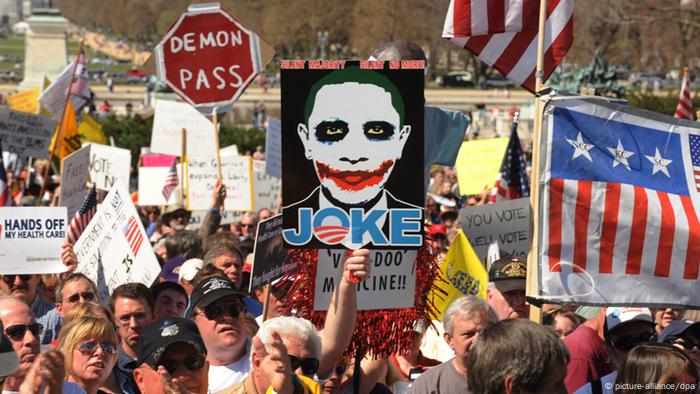 Health care reform was one of Obama's biggest successes, despite opposition
Power struggles with the Republicans
Nevertheless, health care reform - one of the Obama administration's major objectives - was signed into law in March 2010, even if getting it past Congress proved an arduous task. That was because the Democrats lost the seat of deceased Senator Ted Kennedy to the Republican Scott Brown in January 2010, and then lost their majority in the House of Representatives in the mid-term elections in November of the same year.
From then on, the president was locked in a power struggle with Congress that obstructed the legislative process and brought the country to the edge of insolvency in 2011.
Obama's poll ratings nosedived. On taking office, the president enjoyed Gallup approval ratings of 68 percent. At the end of January 2012, he only had 45 percent. In comparison Democrat Bill Clinton was on 52 percent and Republican George W. Bush was on 49 percent. at the same point in their presidencies.
So election year has turned out to be anything but a walk in the park, even though Obama, Harvard graduate and former social worker, can point to a few successes apart from health care reform and saving the US auto industry. As promised, for instance, he pulled all the troops from Iraq.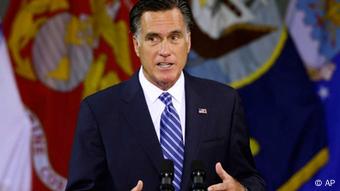 Obama is still more sympathetic to most Americans than Romney
'Forward' instead of 'Hope and Change'
Obama's most headline-grabbing coup was without doubt the successful assassination of top terrorist Osama bin Laden, which he referred to in this year's State of the Union address: "For the first time in two decades, Osama bin Laden is not a threat to this country."
Obama's personal popularity ratings are also still high. A Gallup survey from June this year found that 81 percent of those asked find him sympathetic. His opponent Mitt Romney only reached 64 percent. The former Illinois senator hopes to capitalize on this - as well as on his clear contrast to Romney on social questions like abortion rights, minority rights, immigration, and health care reform. His campaign slogan has been altered to fit the new reality. Instead of "Hope and Change" it now says simply "Forward."