The Saudi mission at the UN announced Monday that "all ports" controlled by Yemen's Saudi-backed government would reopen "within the next 24 hours."
Last week, UN and other international agencies heaped criticism on the Saudi-induced port closures, warning that the blockade would bring millions of Yemenis closer to famine deaths if not lifted.
The ports to reopen were Aden, Mocha and Mukalla, said a statement from the Saudi UN mission. It also asked the UN to send inspectors to ports in rebel-held areas, like Hodeida, to avert alleged weapons smuggling.
Riyadh: stop arms smuggling
Saudi Arabia and the United States had accused Iran of supplying the ballistic missile that struck near Riyadh's international airport on November 4.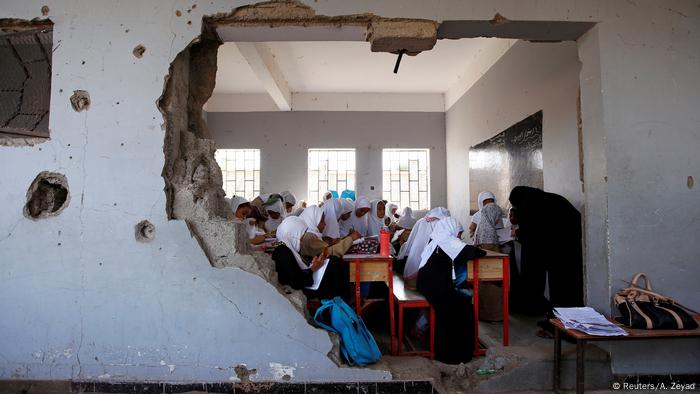 A girls' school in Hodeidah after Saudi-led strikes
Weapons, ammunition, missile parts and cash were "regularly being supplied by Iran and Iranian accomplices to the Houthi rebels," said the mission.
The Houthi rebels denied that the missile fired on Riyadh had "Iranian markings."
Iran has long denied offering arms to the rebels, although it has highlighted civilian casualties from a Saudi-led coalition's campaign of airstrikes within Yemen.
Still blockaded is the main airport in Yemen's rebel-held capital, Sanaa.
Yemen, one of the Arab world's poorest countries, has been gripped since 2014 by the power struggle between the rebels and the Saudi-backed government.
Further Saudi-Iranian tensions over Lebanon prompted a visit to Riyadh last Thursday by French President Emmanuel Macron.
ipj/ng (AP, dpa)