DW: Do you trust the official numbers of infections and deaths?
Jiesi Luo*: I think there are many more infections and deaths from coronavirus than have been officially reported. When preliminary tests determine that a patient has a lung sickness, the nucleic acid test (NAT), which detects viruses, cannot always be carried out because the waiting list is too long. The patient is therefore not diagnosed.
Furthermore, if someone dies from the lung sickness, and has not taken the NAT test, the fatality is not statistically registered as having been caused by the coronavirus.
What is the current risk of infection in Wuhan?
Patients showing symptoms often have to wait for hours before they receive treatment. They are prescribed medicine and sent home to self-isolate. The waiting rooms are full of people coughing. Healthy people who have to wait in these conditions risk infection.
It takes a long time to get to another hospital. If someone doesn't own a car, they depend on taxis, but only two taxis are officially assigned to each housing block.
Read more: Coronavirus: A dramatic escape from Wuhan's lockdown
Only a few volunteers take people to the hospital. The emergency number 120 is totally overwhelmed and no longer works. People have been forced to walk to the hospital.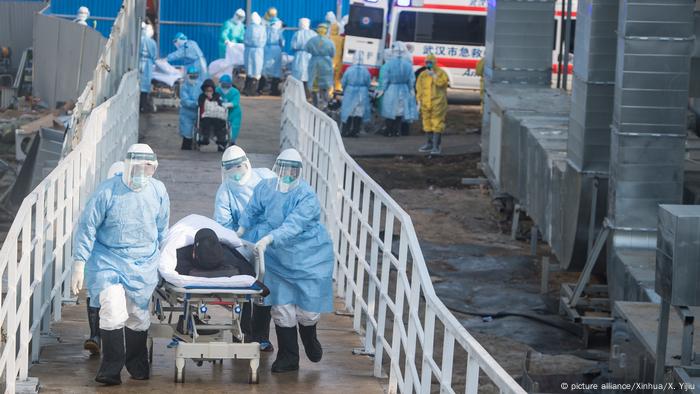 Medical workers help the first batch of patients infected with the novel coronavirus move into the new hospital
Is there enough protective clothing, like masks?
Protective masks and disinfectant are sold out. Hospitals also have a very limited supply. In the meantime, a lot of donations have arrived in Wuhan. However, regulations for doctors to change masks and protective clothing every four to six hours cannot be maintained.
The first of two new hospitals has been opened in Wuhan, is that good news?
The 2,000 extra beds in the newly built hospitals are not enough, because there are not enough medical personnel. Doctors and nurses are completely overwhelmed and the system organizing shifts is collapsing. Long-term treatment is necessary to recover from a lung sickness. Authorities are currently mobilizing capacity in smaller clinics.
*Jiesi Luo (pseudonym) is a medical technician at a hospital in Wuhan. He declined to give his name due to security concerns.