In London, President Frank-Walter Steinmeier became the first German head of state to place a wreath at the Cenotaph war memorial in central London. He arrived with Prince Charles, who laid the first wreath on behalf of his mother, Queen Elizabeth II, who looked on from a nearby balcony.
The wreath that Steinmeier laid at the Cenotaph bore the following handwritten message: "Honored to remember side by side/Grateful for reconciliation/Hopeful for a future in peace and friendship."
The British government said Steinmeier's wreath was laid "in a historic act of reconciliation."
Later, the president joined the Queen and others in Westminster Abbey for a service where the Dean of Westminister prayed for a time when conflict was "transformed into friendship and collaboration."
Steinmeier read, in German, a passage from 1 St John 4: 7-11 "God sent his only begotten Son into the world, that we might live through him. Herein is love, not that we loved God but that he loved us,"
Paris, Arc de Triomphe
Some 70 world leaders gathered at the famous Arc de Triomphe in the French capital to mark 100 years since the end of World War I.
Commemorations in Paris had been scheduled to begin at 11 a.m. local time (1000 UTC), the time that the Armistice signed by the Allies and the Germans on November 11, 1918, went into force. However, the proceedings were slightly delayed, with leaders arriving too late for the exact moment.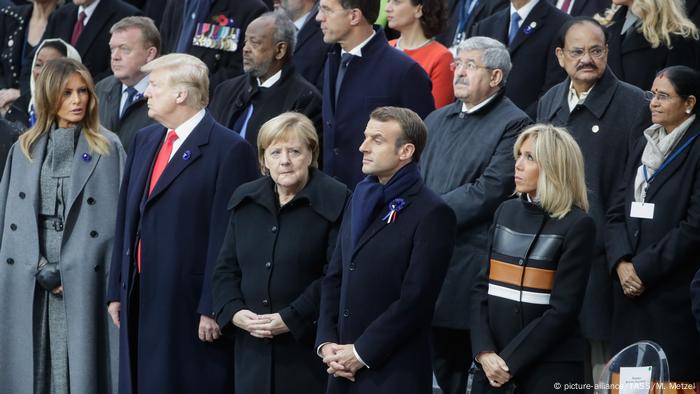 The large number of countries represented in Paris reflects the widespread nature of a conflict in which an estimated 37 million people, including 10 million soldiers, lost their lives. The city of Paris itself was a key objective in the war, with the Allies fighting successfully against German efforts to capture it in 1914.
The solemn ceremony, held in rainy conditions, featured schoolchildren reading moving messages written by soldiers in eight languages, as well as musical performances, including by French-born Chinese-American cellist Yo-Yo Ma and West African singer Angelique Kidjo.
Patriotism, not nationalism
French President Emmanuel Macron held an address in which he described the joy at the end of the conflict, but also remembered the horrors and millions of dead and wounded.
In his speech, he called the nationalism that underlay the war a betrayal of patriotism. He appealed for friendship and dialogue between the nations to create a peaceful future.
"The old demons are rising again," Macron said. "We must reaffirm before our peoples our true and huge responsibility: that of passing on to our children the world that previous generations dreamed of."
"Together, we can banish the specters of climate change, poverty, hunger, illness, all the
inequalities and every ignorance," he added.

Read more: World War I: Europe and the politics of remembrance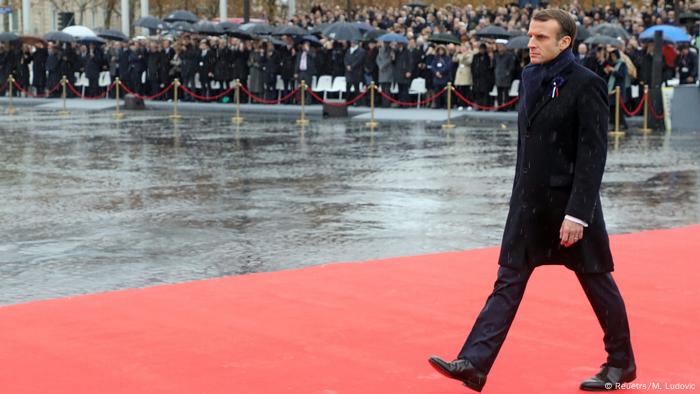 Macron stressed the dangers of nationalism in his speech
Far-flung conflict
The Paris commemorations were preceded by ceremonies in New Zealand, Australia, India, Hong Kong and Myanmar, former British colonies that lost tens of thousands of people sent to fight in the war.
Although Sunday's ceremonies celebrate an act that brought a short-lived peace to the world, they are taking place at a time of growing nationalism and international tensions.
US President Donald Trump, one of the leaders attending the event, is seen by many as undermining the Western alliance and world bodies such as the UN with his self-declared nationalism.
Trump will not be present at the Paris Peace Forum conceived by Macron to highlight the importance of international institutions for global peace and prosperity.
The Forum is to be opened with a speech given by German Chancellor Angela Merkel alongside UN Secretary General Antonio Guterres.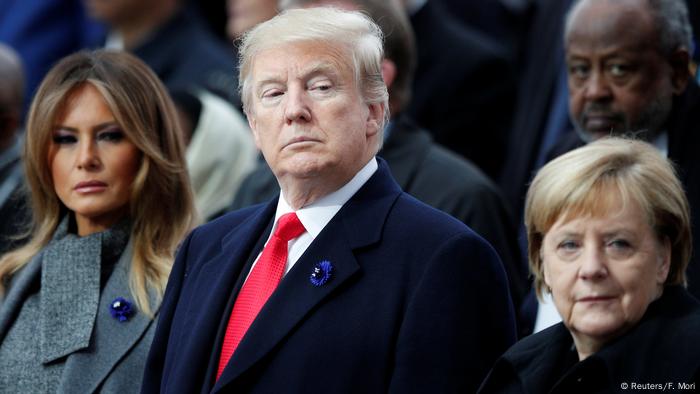 Trump, with his wife Melania, sat next to Merkel during the ceremony
Some of those who participated in Sunday's commemorations had relatives who fought in what is often known as the "Great War," and had come a long way to be in Paris, as DW's Bernd Riegert reported.
Some protest
Other attendees of the memorial service and Forum included Canadian Prime Minister Justin Trudeau, Turkish President Recep Tayyip Erdogan, Israeli Prime Minister Benjamin Netanyahu, and Russian President Vladimir Putin.
Trump and Putin greeted each other and shook hands at the ceremony, Russian television showed. The gesture comes as relations between their two countries remain strained, among other things because of alleged Russian interference in recent US elections.
The US president pointedly did not extend his hand to Trudeau. Earlier this year, Trump described the Canadian premier as "dishonest and weak" amid a dispute over what he alleges are Canada's "unfair" trade practices.
As Trump's motorcade made its way up the Champs-Elysees, it was temporarily halted after two topless protesters approached it wearing slogans on their bodies. Police quickly overpowered the protesters, whom the feminist group Femen claimed as its own.
tj/rc (AFP, AP)
Each evening at 1830 UTC, DW's editors send out a selection of the day's hard news and quality feature journalism. You can sign up to receive it directly here.