Soccer stadiums have long held a position as sacred houses for the fans who worship there. A succession of films at this year's Berlin International Film Festival is also exposing the cinema's popcorn-filled aisles as another surrogate for soccer fans.
"The last few years have seen increasing interest, among intellectuals especially," World Cup Organizing Committee spokesperson Gerd Graus told Newsweek magazine of the growing attention paid to soccer. "Now with the Cup nearly here, the interest is high enough that people will go see the films."
Soccer films emphasize personal stories
Picking up the success of 2002's "Bend It Like Beckham," the Berlinale's films focus on the universal human elements that abound in soccer as well as film.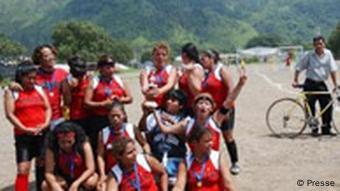 Soccer mirrors life in "The Railroad All-Stars"
"Soccer is an excuse -- a reason to go ahead" with your message, said Chema Rodriguez, Spanish director of "The Railroad All-Stars," a documentary about a group of soccer-crazed Guatemala City prostitutes who start a soccer team.
"It is a story about human beings on the edge of society," Rodriguez added.
Iranian director Jafar Panahi admitted his film "Offside" wouldn't have been a success -- and he may not have even made it -- if Iran hadn't qualified for this summer's World Cup.
Cup qualification prerequisite for Iranian film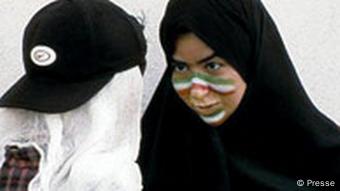 Three Iranian girls are arrested for trying to see their team play in "Offside"
Possibly the first film to come about directly from the result of a soccer game, if Iran hadn't beat Bahrain in June 2005 to secure a World Cup berth, Panahi would have been left without the celebrations in the streets of Teheran his movie needed.
"If they hadn't won it would have been a bitter ending," he said. "I want the audience to feel good."
Now Panahi is left hoping Iranian censors will clear the film about girls and women being barred from the stadium during Iran's last home qualifying game and suffering through the sound of the crowd's cheers before the World Cup finals begin on June 9.
Cinema shows how far fans will go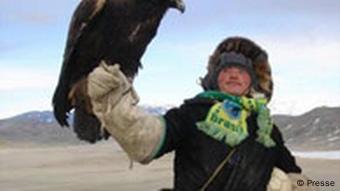 Seeing the finals is no easy task for Mongolian nomads in "The Great Match"
"The Great Match" is also making an appearance on Berlin's screens. The comedy depicts the game's global influence and the extremes soccer fans are willing to go to for a chance to see their team play by following the travails a nomadic Mongolian family as well as groups of Sahara and Amazon natives attempting to find a way to see the 2002 championship match between Brazil and Germany.
"The message I want to give is that TV is changing the world," said director Gerardo Olivares. "Football is a universal phenomenon, not just a sport."