Looming menacingly in front of Spartak Stadium is a 25-meter-high (82 feet) statue of the slave gladiator Spartacus, the Moscow club's eponymous hero, who went down in legend for commanding a ragtag rebel army against the Roman overlords. His story is one of struggle, valiance and ultimately defeat.
It is a tale that might well resonate with Robert Lewandowski. Poland's very own gladiator has long carried the weight of his underachieving national side on his shoulders. The Bayern Munich striker scored 16 times in European World Cup qualifying – more than half of his country's total – to help send them to Russia.
However, with that comes expectation and the pressure to perform. Such is the burden of legends. Against Senegal, the roar from the mostly Polish crowd grew louder every time Lewandowski threatened to approach the goal. The problem for him and Poland was that this barely happened, save for a moment just after halftime when he burst through the Senegalese defense, drawing a free kick.
Lack of space
There is recognition in the Polish ranks that more needs to be done to support Lewandowski during the rest of this tournament, especially when, as on Tuesday, he gets marked out of games by an organized and compact opposition.
"We all knew it was going to be like that, that Robert would always be playing against two, three or even four defenders," Poland's second-choice goalkeeper Lukasz Fabianski told DW after the game. "We knew that we had to open up some spaces but you have to give credit to the Senegal team."
"[Lewandowski] didn't have that many chances apart from the free kick," added Fabianski, who featured in all but two of Poland's qualifying matches after an injury to the first-choice Wojciech Szczesny. "I don't think he had any real opportunity to score a goal. I think that's a part of the game we have to look at and make some smart choices."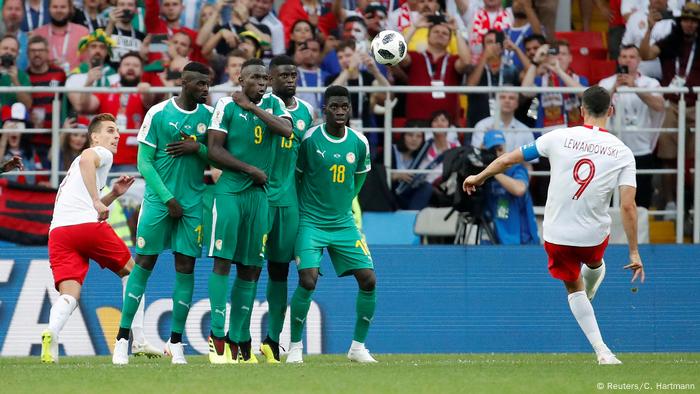 The fact that Robert Lewandowski's best chance game on a free kick says all you need to know about Poland's match
Cause for optimism?
Before the match Polish fans had expressed hope that their team could go far in Russia, with many heralding the current crop of players as the best they have had for quite some time. Arkadiusz Milik is a talented young foil for Lewandowski, while the injured Kamil Glik was missed in defence.
Milik, who endured unsuccessful spells in Germany with Bayer Leverkusen and Augsburg, flourished during his time in the Netherlands with Ajax, earning himself a move to Serie A side Napoli. Injuries have limited his appearances in Italy, but fully fit, he can get among the goals. That, though, depends on a decent supply line, something he and Lewandowski were starved of in Moscow.
In truth, Poland never really settled in against the strong and pacy Senegal. All too frequently passes were misplaced and balls not brought under control. The African side's second and decisive goal epitomized that. After some aimless head tennis in midfield, Grzegorz Krychowiak's lazy backpass was intercepted by M'Baye Niang, who prodded the ball past the onrushing Szczesny and tapped it into an empty net.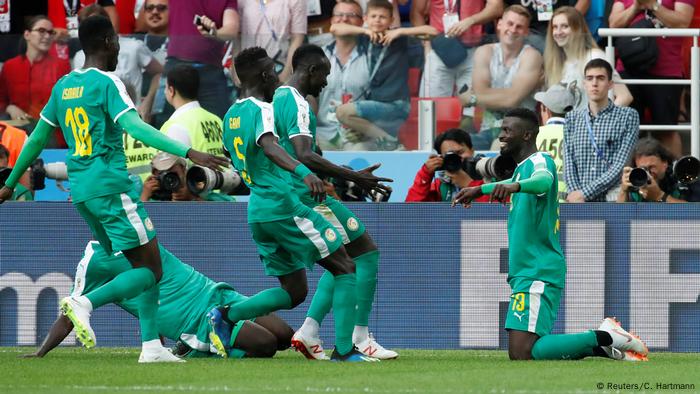 M'Baye Niang's goal sealed the deal for Senegal
Indeed, it was the Polish midfielders who received most of coach Nawalka's ire in his post-match press conference.
"We weren't aggressive enough, the wingers didn't do a good job and neither did the midfield," he fumed. "We weren't dynamic or coordinated."
Crunch game up next
With Japan upsetting Colombia earlier on Tuesday, Group H has been blown wide open. A lot now rides on Poland's next game against the South Americans, who will hope to have their star player James Rodriguez back in the starting lineup after his calf injury.
"We need to play with more belief," Szczesny told DW. "I thought we played with the handbrake on today. The next game will be completely different because Colombia play much more open football than we do. And with our pace on the wings and up front, we can make the difference."
"I hope [the defeat to Senegal] is the last surprise on our part," Szczesny added. "We have two games left and we just have to focus on our job and get the two wins."
To do that, Poland would do well to heed what happened to Spartacus. Although his body was never found, it is widely assumed he died in battle, overpowered and outfought by a superior army.
Spartacus simply couldn't do it alone. And neither can Robert Lewandowski.