Poland 1 - 2 Senegal
(Krychowiak 86' - Thiago Cionek OG 38', Niang 60')
Senegal kicked off their World Cup with a win, thanks in no small part to a Thiago Cionek own goal and a three-way misunderstanding in defense that gifted M'Baye Niang the very definition of an opportunist's goal.
After an hour, Wojciech Szczesny combined with midfielder Grzegorz Krychowiak and defender Micahl Pazdan to offer Senegal a real gift. Krychowiak tried to play a bouncing ball all the way back to his goalie from Senegal's half. Pazdan left the ball for Szczesny, even though it was well in front of him. The goalie lunged for the ball and missed, allowing Niang to run past him and finish in an open goal.
Krychowiak was able to make amends with a splendid late header, though Poland only had minutes left to chase an equalizer. The Polish team struggled to attack with purpose, rarely getting star strikers Robert Lewandowski and Arkadiusz Milik into the game.
Group H always looked exciting, but now it's positively wide open. Colombia's defeat to Japan and now Senegal's win over Poland mean that two teams most certainly targeting a place in the last 16 have no points after their first match. All 32 teams at the World Cup have now played their first group games.
Full time.
90+5' Macky Sall points to his watch, and gets his wish! Full time, Senegal win.
90+3' Poland are in full hit-and-hope mode now, pumping long ball after long ball forwards.
90+1' Corner Poland. Average delivery, and an excellent claim from Senegal's keeper N'Diaye.
90' Corner Senegal, seeking the first win for an African club at this World Cup. Play's broken up for an offensive foul in the area, but that won't worry Macky Sall and his team. Four additional minutes, though; they might worry Senegal!
89' Senegal's nerves will surely be rattled after letting their opponents back into contention in the last minutes. Their cushion's no more, but time is very short for Poland.
86' Krychowiak rose well to head a free kick back across goal and past N'Diaye. Lovely floating header to the far corner.
86' GOAL! Grzegorz Krychowiak. Poland back in the game?
85' Tempers flare after a Senegalese penalty appeal was waved away. A good decision from the officials, replays revealed a definite dive.
84' Poland's last sub: Piszczek makes way for Bartosz Bereszinsky of Sampdoria.
81' More confusion in the Polish box. This time a flapping Szczesny did just enough to clear the danger.
79' Substitute Kownacki with his first chance, arriving at the back post. Comfy save for N'Diaye in goal.
75' Senegal also sub out scorer Niang, who took a knock moments ago and signaled that he couldn't continue. Moussa Konate takes his place.
73' A second Poland subsittion, Dawid Kownacki replaces Milik.
72' Idrissa Gueye booked for a foul on Krychowiak. The midfielder didn't get credited with the opening goal, but will get on the stats sheet for less exalted reasons.
70' Big chance for Poland. Arkadiusz Milik arrives at the near post with space, but can't find the corner with his low shot.
67' Corner for Poland, who are in need of a shot in the arm. However, the delivery was far too deep. Macky Sall's Senegal are on the route to an upset and to throwing the highly competitive Group H wide open after Colombia's defeat to Japan.
60' Krychowiak started the catalog of errors, trying to play a bouncing ball in the semi-circle all the way back to Szczesny. His lofted back pass was a nightmare for the keeper, who couldn't get to it in time. Niang was able to pounce and run the ball into an open net.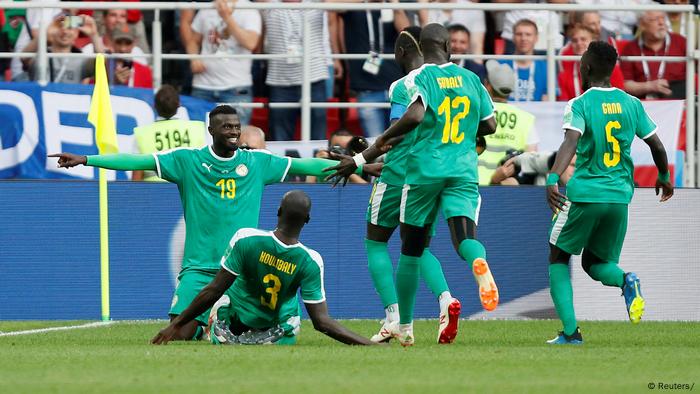 Niang and his teammates celebrate the second goal
60' GOAL! M'Baye Niang scores. What a gift from the Poles.
54' Poland's slow and patient approach play remains rather uninspiring. Although they've started having some joy with long, searching diagonal balls over the defense. The most recent picked out Lewandowski on the left flank only for the attack to peter out.
51' Lewandowski curls the free kick towards the top corner, prompting an excellent save from Khadim N'Diaye.
50' Lovely spot for a set piece: right in front of goal, maybe 22 meters out.
49' Lewandowski breaks clear in a footrace with Salif Sane. Sane brought Lewandowski down. Other defenders were nearby, though, so Sane only gets a yellow card.
46' The second half is off and running.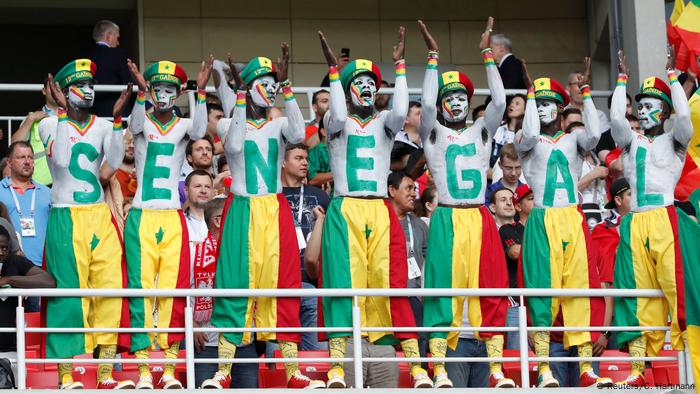 Senegal's supporters have brought some charm to a drab match
HT analysis: Cat and mouse stuff in Moscow so far. If anything, Poland appeared to have the better of the game for around half an hour. A wicked deflection ultimately broke the deadlock, with Thiago Cionek accidentally helping Idrissa Gueye's harmless shot into the net. Robert Lewandowski has been utterly anonymous, while Sadio Mane has had much more of the ball and failed to pose much of a threat.
45+2' HALF TIME. Senegal see out the half with a period of possession, without really breaking Poland's ranks.
45' There will be two additional first-half minutes, perhaps not to the neutrals' delight.
41' Okay. So the officials say that deflection was so great, that it's actually going down as an own goal. Gueye doesn't get the credit, it's a Thiago Cionek own goal.
38' GOAL! Idrissa Gueye. There are deflections, and then there's that. Poor Szczesny. Gueye's shot redirected from one corner to the other by a defender's boot, totally wrong-footing the Polish keeper.
34' A pair of dangerous Senegalese crosses from the right wing. The first was cleared by the last man. The defense made real meal of the second delivery, but it didn't matter in the end; Mame Diouf was offside.
31' Both the superstar captains have been quiet so far. As any Bayern or Dortmund fan will attest, Robert Lewandowski likes to lie dormant prior to erupting in front of goal. But even live-wire Sadio Mane is struggling to really get into the game, despite seeking more of the ball on the left flank. When last given the ball and space, Mane overplayed his hand and conceded possession.
22' An impressive milestone this evening for a Bundesliga routinier. Jakub "Kuba" Blaszczykowski, once Poland's captain until he made way for Lewandowski star power, is up to 100 caps for his country, aged 32.
20' Strong period of play for Poland, spending an extended period in Senegal's third. A cross looking for Zielinski just now didn't miss its man by much.
16' Penalty appeal for Ismaila of Senegal, but the referee's having none of it.
13' Salif Sane, Schalke's new summer signing at center back, fancied his luck from a free kick from range. However, his shot was well wide of Szczesny's goal.
12' Poland's playmaker Grzegorz Krychowiak booked for a foul, his second of the game, the first only earned him a warning.
11' Sadio Mane just tried to pick the lock, looking to play Mame Diouf in behind the line. There was a bit too much fizz on the pass and it ran through to Wojciech Szczesny's arms.
7' Corner Senegal, the first of the game. The delivery's woeful and doesn't clear the man at the near post. As you were, gents.
4' First promising attack for Poland, breaking Senegal down along the left flank, but the ball wouldn't sit right for them in the penalty area.
1' KICK OFF! Poland in white shirts and red shorts.
17:01 Missed Japan versus Colombia just now? We've got you covered!
17:00 We've a team of match officials from Bahrain and Qatar for this one.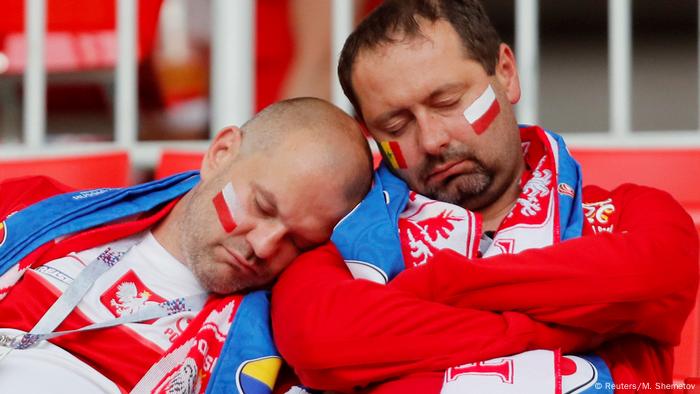 The Poland fans have been waiting days for their side's World Cup campaign to start
16:59 The players shake hands with the match officials as teams 31 and 32 prepare to leap into action. After this game, everybody will have played one World Cup game.
16:58 Poland's side warm their lungs up with the national anthem, with Bundesliga boys Lukasz Piszczek and Kuba Blaszczykowski arm in arm during the rendition.
16:50 Welcome to our live coverage of Poland vs. Senegal in Group H. Here are the starting lineups for the match. Star strikers Robert Lewandowski and Sadio Mane are wearing their country's armbands.