A winter thaw continued to affect parts of Germany on Monday after at least two deaths over the weekend, as melting snow and ice caused river waters to rise across the country.
In the western state of Rhineland-Palatinate, emergency services are bracing for what is expected to be the most severe flooding across the country. Parts of eastern Germany are also preparing for continued high water. Only the state of Hesse, which borders Rhineland-Palatinate, has reported easing water levels.
Further flooding was expected to hit the city of Koblenz in the state of Rhineland-Palatinate. Authorities there said Monday water levels were still climbing, and that local residents could expect heavy traffic disruptions due to street closures. Rescue services in the city said they have strengthened flood protection measures.
According to estimates, some 30 municipalities between Koblenz and Trier, which lies some 130 kilometers (about 80 miles) upstream on the Moselle, were experiencing flooding.
Two deaths over the weekend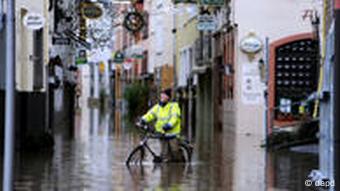 Dozens of towns are flooded along the Moselle
The high waters have taken the country by surprise after unseasonal warm weather thawed snow and ice around the country. Over the weekend, a 50-year-old kayaker was found dead in the river Enz near the southwestern city of Pforzheim, while in Bavaria, a 67-year-old man died after melting snow loosened scaffolding on a building site, which then hit the man on the head.
On Sunday, towns in the wine-growing region along the Moselle, including Cochem and Zell, were flooded with several meters of water, but authorities said Monday that waters there had begun to recede. Parts of Cologne were also flooded, in some areas up to 8.19 meters, or some 30 feet.
In the central state of Thuringia, road bridges had to be closed in response to the floods, with more meltwater expected later in the week. Initial flooding on secondary rivers in the eastern state of Saxony-Anhalt has also put authorities on high alert.
Rail travel was also affected, as trains had to be diverted away from flooded tracks in the city of Wuppertal in North Rhine-Westphalia.
In neighboring Belgium, emergency services are on the highest level of alert, according to the Belga news agency. Some local authorities were distributing bottled water.
Author: Darren Mara (AP, dpa)
Editor: Martin Kuebler