In the wake of low temperatures, snow and freezing rain, many roads in Germany are still dangerously slippery and hard to navigate. Winter services say they are doing their best, but have very little salt left to grit the roads - at least in some of Germany's 16 states.
Main highways and roads in Bavaria and in Saxony-Anhalt, which both stockpiled large amounts of salt, are clear of snow, but Lower Saxony is still battling the icy chaos. North Rhine-Westphalia, Germany's most populous state, is also dangerously low on salt as it awaits new shipments.
The situation is the same in many German cities and towns: road salt is currently a rare commodity.
Europe's largest salt producer, K+S, produces about 25,000 tons of road salt per day at its mine in Bernburg in the eastern German state of Saxony-Anhalt.
"If we wanted to produce more salt, we would need more workers," Winfried Guether, head of production at K+S told Deutsche Welle. The company is already working around-the-clock.
"There is a limit, however, and, at 600 tons per hour, we seem to have reached that limit."
Overwhelmed by current demand, K+S has ordered an extra 100,000 tons of salt from subsidiaries in the US and in Chile.
Shipping industry grounded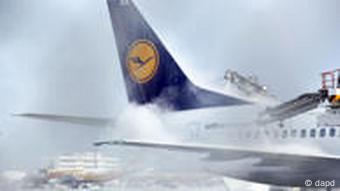 Flights across Germany were grounded for several days
Although air travel in Germany has returned to normal following chaos at airports over Christmas, railway travel is still disrupted in some parts of the country after frozen switches, cancellations and delays had caused major problems this winter season.
Yet it's not just the roads and rails freezing up: The shipping industry has also been grounded by the severe winter weather. Many ships are stranded on the country's Mittelland canal, an important national east-west waterway.
One of them is the cargo ship Uranus, stuck near Hanover with thousands of tons of clay on board. All captain Ralf Stuehff can do these days, he told Deutsche Welle, is to clear snow from the deck. The ship is on the way to Magdeburg - a destination it is not likely to reach this year.
"You just have to accept the wait, in fact the entire economic situation. If the temperatures are too low, you have to watch out for the engine and the heater to make sure nothing freezes," Stuehff said. "If it gets warmer, maybe things will get moving."
Deutsche Bahn under fire
National rail operator Deutsche Bahn came in for particular criticism Wednesday. Winfried Hermann, chair of the German parliament's transport commission said Deutsche Bahn may even have to consider leasing trains from abroad to better deal with harsh winters in the future.
"This winter has laid bare the weaknesses of Deutsche Bahn. One of the main points of criticism is that it reduced costs in order to float on the stock exchange, cutting essential reserves of materials and personnel and those reserves are not easily re-established," Hermann warned.
But for now, there is little respite in sight. Germany's national weather service is predicting occasional snow or freezing rain and temperatures below zero for days to come.
Author: Dagmar Breitenbach
Editor: Andreas Illmer