On Sunday, February 17, Bangladesh's parliament amended a law to allow the prosecution of the country's biggest Islamic party, Jamaat-e-Islami, which many accuse of helping the Pakistani military massacre Bengali people during Bangladesh's 1971 war of independence from Pakistan.
Islamabad has always denied its role in the massacre during the war. No Pakistani government has formally apologized to Dhaka for the killings. Nationalist parties in Bangladesh, however, claim that the Pakistani army and its supporters killed around three million people during the war.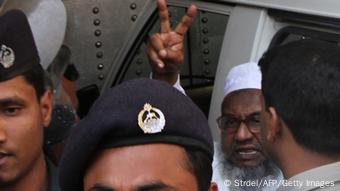 Abdul Quader Molla, 64, is one of Jamaat-e-Islami's top leaders
Thousand of protesters in Bangladesh's capital Dhaka are currently demanding a ban on Jamaat after one of the group's leaders, Abdul Quader Molla, was found guilty of crimes against humanity by a war crimes tribunal two weeks ago. The tribunal sentenced Molla to life in prison, but the protesters are demanding the death penalty for him and for those convicted by the tribunal.
Rights organizations, however, say the tribunal falls short of international standards.
Domestic politics
Jamaat-e-Islami and the main opposition Bangladesh Nationalist Party (BNP) of former Prime Minister Khaleda Zia say the trials are bogus and are part of a political campaign to repress opposition. Both parties boycotted Sunday's parliamentary session, which passed the amended law after it was approved by the cabinet.
The Bangladesh Awami League's government rejects the accusations and says the trials are essential to "heal wounds" from the 1971 war. On Saturday, Prime Minister Sheikh Hasina said that Jamaat had "no right to be in politics in free Bangladesh" and that she would support the ban.
Jamaat had been briefly outlawed by Sheikh Mujibur Rahman, the country's founder and Hasina's father, in the 1970s for supporting Pakistan during the war. After the assassination of Rahman in 1975, a military government scrapped the ban.
'Too late'
Jamaat says the war crimes tribunal is 'bogus'
Jamaat-e-Islami was founded by a Muslim theologian Abu Aala Maududi in 1941 and is active in politics in Bangladesh, India and Pakistan. Though Jamaat is not very popular in any of these countries, it enjoys a considerable middle-class support in big cities, particularly in Pakistan.
Pakistani liberals critical of the military's role in Pakistan's politics today also accuse Jamaat of unleashing terror on Bengali people during the 1971 war. They also demand that those responsible for violence be tried, and that Islamabad officially apologize to Dhaka.
"A commission was formed in Pakistan in the 1970s to probe the incidents during the 1971 war. The report prepared by the commission remains classified and confidential but some of its parts got leaked in 2000," Dr. Jaffar Ahmed, professor of Pakistan Studies at the University of Karachi, told DW. He said that the leaked excerpts of the report had accused a number of people, including Pakistani military generals, but that no action had been taken against them.
"If the main culprits are never indicted, we should not expect that those who worked on behalf of them will ever be tried," Ahmed said, alluding to Jamaat. "In any case, I think it is too late now to act against these people and groups. In Bangladesh, too, it is more a political stunt by the government than anything else."
Regional politics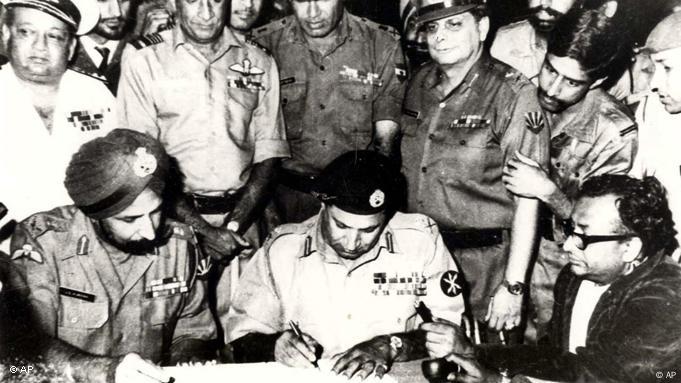 Around 90,000 Pakistani soldiers surrendered in Bangladesh during the 1971 war
Waqas Jafri, a Jamaat-e-Islami leader in the central Pakistani city of Lahore, told DW in an interview, "India is instigating the campaign against Jamaat" because it did not like to see a strong Islamic party in Bangladesh.
"Sheikh Hasina's government is backed by India, and I see a conspiracy to defame Jamaat-e-Islami," he added. "The tribunal itself is controversial and many international organizations have criticized it."
Jafri also said that a resolution in parliament was not sufficient to outlaw a political party, which, he said, had been playing a constructive and active role in politics in Bangladesh.
The Jamaat leader defended his party's role in 1971 and said that it had only defended its country at that time along with other "patriotic" groups.
Jamaat claims that that Bangladesh was separated from Pakistan in 1971 because of an "Indian conspiracy" against Pakistan.