DW: The motto of this year's Beethovenfest is "Fate." Last year it was "The Distant Loved One." How do you go about finding themes like these?
Nike Wagner: Strangely enough, that's the easiest thing. All I have to do is set my imagination free, recall the usual Beethoven cliches or have an animated discussion with friends. It has to be a concept broad enough to cover many concerts, yet be understood immediately. "Fate and Beethoven": the entire 19th century, and also the 20th, saw Beethoven along these lines. No wonder, because here was an exceptional musician who was stricken with the fate of going deaf as a 30-year-old and for that reason even contemplated suicide.
Read more: A fateful year for Beethovenfest
Some philosophers and psychologists question whether free will even exists. But when Beethoven was confronted with that blow of fate, he wrote, "I want to grab fate by the throat. It most certainly will not get me down."
Yes, Beethoven is known for his attributes having to do with the Enlightenment and personal liberation, but also for his stern and even harsh personality. He definitely symbolizes resistance, the kind of man who wouldn't acknowledge the supremacy of any authority, not even an omnipotent one like "fate." Instead, he was a fighter. And his fate was very clear. He persistently worked on earpieces and ear horns and was always looking for something that would help. He didn't bow to circumstance. That's a fantastic quality, and makes him a role model for many.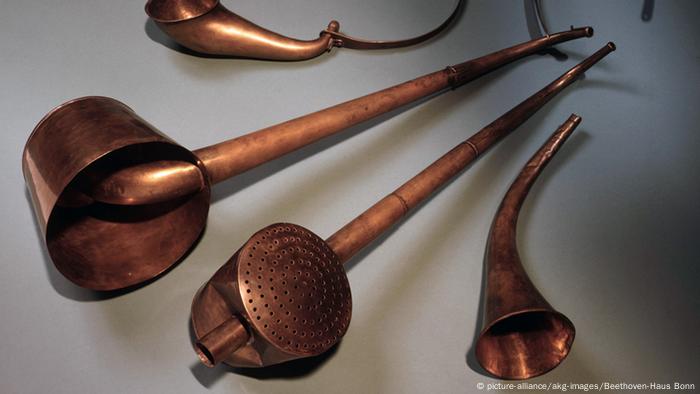 Beethoven resisted the fate of his impending deafness by supporting the invention of these listening horns
How do you see the fate of the Beethovenfest?
The Beethovenfest has had a fate of many ups and downs if you consider its evolution since it was established in 1845. It was neglected for years at a time, so there was no real continuity. Only in 1999, and with new funding bodies — including the city of Bonn and Deutsche Welle — has it grown into a large-scale international festival that can attract major sponsors. The goal has been to complement Bonn's image as the onetime capital of West Germany, and to give it a new image associated with music and the arts.
Read more: Wagner on her father's Nazi ties and a childhood overshadowed by the Bayreuth Festival
DW is the Beethovenfest's main media partner. Through our concert broadcasts, our audience considers it one of Germany's major classical music festivals, an accurate description. How important is mass dissemination of festival concerts to you?
You can't overestimate the importance! The more we are present in the media, the better, particularly with a classical music festival. With rock and pop, the audiences are already there. But we depend on our media partners. They are the only ones who can give us the most precious resource of all: people's attention — and potentially their attendance. Sponsors, whether public or corporate, are not pleased to see empty halls.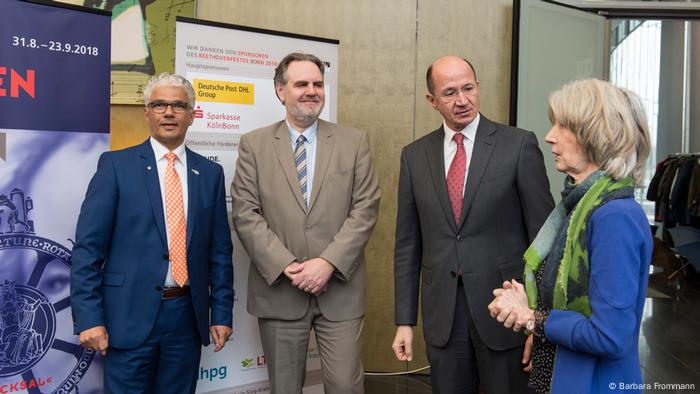 Left to right: Bonn Mayor Ashok-Alexander Sridharan, DW Culture head Rolf Rische, Christof Ehrhart of sponsor Deutsche Post and Wagner announced the Beethovenfest's 2018 lineup on Thursday
Here in Bonn we're fortunate to have Beethoven as a local hero. He was only briefly in Berlin and moved to Vienna when he was 22. So Bonn is the only city in Germany that can stake a claim to Ludwig van Beethoven's biography, and that connection can be further developed.
Nike Wagner, a great-granddaughter of Franz Liszt and granddaughter of the composer Richard Wagner, has been director of the Beethovenfest Bonn since 2014. Before then, she headed the Arts Festival in Weimar for 10 years. She is the author of several books and essays on culture and music.
Nike Wagner spoke with DW's Rick Fulker.