Yanis Varoufakis decided to come out swinging. "The time to put up or shut up has, I have been told, arrived," he wrote on his blog on Tuesday as the news broke that he would be Greece's next Finance Minister. "My plan is to defy such advice. To continue blogging here even though it is normally considered irresponsible for a Finance Minister to indulge in such crass forms of communication."
An economics professor at the University of Athens, the 53-year-old Varoufakis is being trumpeted as a radical out to defy the European Union's austerity politics, the issue that appears to have turned Greece to the leftist path of Varoufakis' party Syriza.
Varoufakis, a first-time minister and parliamentarian elected in last week's election, will head the team that will negotiate new bailout terms with the country's creditors, and he has been a vocal critic of the EU's bailout scheme.
Europe is Greece's problem, not vice versa
His opinionated, outspoken manner has attracted media attention, and he has appeared as an expert analyst on the BBC, CNN, Sky News, and Russia Today. He also wrote a guest column for Deutsche Welle in 2012, in which he insisted that Greece's problem was Europe, not the other way round: "It is not a question of whether Greece can be viable within the eurozone but whether the eurozone, as currently constructed, is viable with or without Greece. Put, differently, the question those outside of Greece need to ask is: Why are we still talking about Greece, two long years after its implosion?"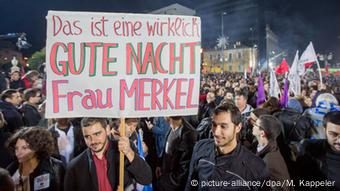 Syriza ended up just two seats short of an absolute majority in the Greek parliament
Varoufakis approach to the Greek crisis has been to insist that the problem is much larger, more systemic, and cannot be tackled by simply imposing austerity policies on struggling economies on the Meditteranean. Arguably his most important book was "The Global Minotaur: America, Europe and the Future of the Global Economy," published in 2013, lauded as an accessible attempt to explain the systemic roots behind the 2008 global economic crisis.
Misreading the euro crisis
Varoufakis early academic career was spent in the UK, largely because military and paramilitary forces in early 1980s Greece often targeted students. Specializing in international macroeconomics, he studied and taught at three British universities before leaving the country in 1987 when Margaret Thatcher was elected for the third time as prime minister. "It was too much to bear," he wrote in his brief online biography.
He eventually went on to study at the University of Sydney, but left Australia in 2000, again in disgruntlement at the national politics: "A combination of nostalgia and abhorrence of the conservative turn of the land Down Under (under the government of that awful little man, John Howard) led me to return to Greece," he wrote.
When the global financial crisis reached Europe in 2008, Varoufakis had equally unforgiving words for the European Union. "When the Crash of 2008 hit, Europe's monetary union was hopelessly ill-prepared to absorb the shockwaves," he wrote on his website. "Worse still, our leaders went into radical denial of the crisis' nature (treating it as a debt crisis that could be treated by universalised austerity). Thus, European integration went into reverse."
In 2011, he was especially critical of the EU's insistence on bailing out struggling banks - with no conditions - while making draconian demands on insolvent countries. "The result is that Europe's zombiefied banks are now great black holes that absorb much of Europe's economic energy (from the surpluses produced in countries like Germany to the loans taken out by struggling minnows, like Greece and Portugal)," he wrote. "Quite remarkably, while the insolvent states are visited upon by stern IMF and EU officials, are constantly reviled by the 'serious' press for their 'profligacy' and 'wayward' fiscal stance, the banks go on receiving ECB liquidity and state funding (plus guarantees) with no strings attached. No memoranda, no conditionalities, nothing."
Now, as a leader himself, he will have a chance to turn his country around. Greece is still in dire economic straits. The unemployment rate stands at 26 percent and one-third of the population live below the poverty line, and youth unemployment is at 49.8 percent.
bk/hg (dpa, AFP)