Chelsea Manning walked free on Wednesday at the military prison in Ft. Leavenworth, Kansas. The 29-year-old former army private was sentenced to 35 years in prison after being convicted in 2013. She had been in custody since being arrested in May 2010.
A US military court convicted her under the outdated Espionage Act of 1917 - she was found guilty on 17 of the 22 charges brought against her. Manning was acquitted of the aiding the enemy charge, however, for which she may have faced the death penalty.
Inhuman treatment as a pretrial detainee
She reportedly tried to commit suicide and went on hunger strikes in prison. She was required to serve her sentence in an all-male detention facility and not allowed to wear a feminine-style haircut.
Over a period of 11 months during her three-year detention prior to her conviction, Manning was kept locked up alone in a tiny cell over 23 hours a day. In 2012, Juan Mendez, the former UN Special Rapporteur on Torture, filed a report in which he concluded that the treatment was cruel and inhuman.
The Department of Defense has repeatedly declined to comment on Manning's treatment in prison.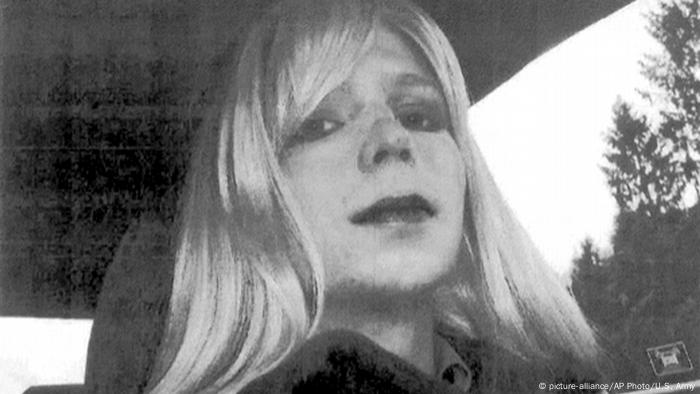 Manning in an undated photo taken during her imprisonment
Embarrassing leaks
A former intelligence analyst in Iraq, Manning was convicted in 2013 of leaking over 700,000 secret military and State Department documents and battlefield videos. The episode was one of the most embarrassing leaks of classified information in US history.
Three days before leaving office in January, then-president Barack Obama's slashed Manning's sentence by 28 years after more than 115,000 people signed a petition calling for her release. However, in an email to DW, Manning's defense lawyer Nancy Hollander recalled the fact that the Obama White House prosecuted more whistleblowers than any other presidential administration in US history.
Manning acknowledged leaking the materials, saying she wanted to expose the US military's disregard toward the effects of war on civilians and said she released information that wouldn't harm the US.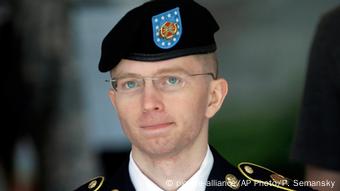 Manning was sentenced to 35 years in prison in 2013
Critics said the leaks endangered information sources, prompting the State Department to help some of those people move to protect their safety. Several ambassadors were recalled, expelled or reassigned because of embarrassing disclosures.
Driven by a sense of justice
Manning's motivation was clear: the desire for government transparency. She has said she is personally concerned about the discrepancy between government rhetoric and what happens on the ground. She would like war crimes to be punished and for those who commit them or make them possible to be held accountable. Under the chat name bradass87, she wrote, "i want people to see the truth… regardless of who they are… because without information, you cannot make informed decisions as a public."
When Chelsea Manning is released from prison, she may, for the first time, have the opportunity to live the life she has always wanted as a free woman. A support group has raised over $130,000 (117,000 euros) to help her begin life beyond prison.
DW's Matthias von Hein contributed to this report.
jbh/kl (dpa, AP, AFP)