Obama made the announcement on Tuesday after hinting in recent days that he was considering granting the former army intelligence analyst's commutation application.
Manning, who was born a man and was known at the time as Bradley Manning, was responsible for a massive leak of military and diplomatic documents to whistleblower website WikiLeaks in 2010.
US Republicans have criticized Obama's move, with House of Representatives Speaker Paul Ryan calling it "outrageous." He added that the ex-intelligence analyst "put American lives at risk and exposed some of our nation's most sensitive secrets."
Manning was arrested in 2010 and handed a 35-year sentence in 2013 for six violations of the Espionage Act as well as 14 other offenses. She is currently serving her sentence at the male military prison at Fort Leavenworth, Kansas.
The commutation means that Manning, who has already been jailed for nearly seven years, will be set free on May 17 of this year, rather than in 2045. The length of her prison term had been criticized by international human rights observers, who argued that it was unnecessarily harsh after Manning had confessed and pleaded guilty to a lesser version of the charges leveled against her.
Accusations of poor treatment
Obama's decision also means that the Department of Defense no longer holds responsibility for Manning, removing the question of how it should handle the prisoner's treatment for gender dysphoria. Manning is currently transitioning to a woman and is seeking sex reassignment surgery. Following a lawsuit filed on behalf of Chase Strangio, a lawyer with the American Civil Liberties Union (ACLU), the military agreed to allow her to begin her transition.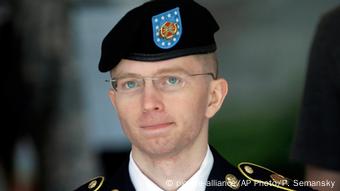 Manning seen during the trial in 2013
In her commutation application, made public by her legal team in November, Manning appealed to Obama to release her, arguing that she was a "far different person" from who she was in 2010 and that six years in prison had damaged her mentally and physically. "The sole relief I am asking for is to be released from military prison after serving six years of confinement as a person who did not intend to harm the interests of the United States or harm any service members," Manning wrote. "I am living through a constant cycle of anxiety, anger, hopelessness, loss and depression...I cannot focus. I cannot sleep."
She had tried to commit suicide multiple times while in prison, something her attorneys attributed to her poor living conditions, including a period of solitary confinement following her first suicide attempt in July.
Decision hailed by Manning supporters
Following the administration's announcement, WikiLeaks tweeted that Manning's commuted sentence was a "victory."
In a tweet earlier this month, WikiLeaks said its founder, Julian Assange, would agree to be extradited to the US from London, where he is currently holed up in the Embassy of Ecuador.
In addition to Manning, Obama announced he was shortening the prison sentences of 208 other inmates. He also pardoned 64 people charged with making false statements while being questioned over the release of classified information.
"These 273 individuals learned that our nation is a forgiving nation," said White House Counsel Neil Eggleston, "where hard work and a commitment to rehabilitation can lead to a second chance, and where wrongs from the past will not deprive an individual of the opportunity to move forward."
Strangio, the ACLU lawyer, said the decision would "quite literally save Chelsea's life."
blc/gsw (AP, Reuters, dpa, AFP)