UN Secretary-General Ban told world leaders meeting on the sidelines of the UN General Assembly on Thursday that $1 billion (785 million euros) was needed. Liberia's President Ellen Johnson-Sirleaf said 100,000 citizens could die.
Johnson-Sirleaf, one of three West African leaders to address the New York meeting via video, said the region was also facing economic collapse and reversals of civil-war recovery and previous campaigns against ills such as malaria.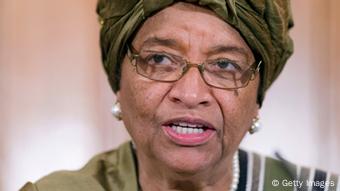 100,000 could die, says Liberia's president
"The worst case scenario is that over 100,000 citizens will die from a disease (Ebola) that they did not start and do not understand," she said.
Response so far inadequate
Sierra Leone's president, Ernest Bai Koroma, said responses so far were inadequate. He described the outbreak as "worst than terrorism."
Guinean President Alpha Conde said: "the faster the response, the faster the fight."
One of the few bright spots was news from the World Health Organization (WHO) that the rate of Ebola infections had stabilized in Guinea.
A third US medic flown home after becoming infected while treating patients in West Africa was declared free of the virus at a Nebraska clinic on Thursday.
Dr. Rick Sacra, who had handled patients in Liberia, had received an experimental drug called TKM-Ebola. The Nebraska clinic said it was sharing lessons learned with medical aid workers setting up field hospitals in Africa.
But a Spanish medic flown home died in a Madrid hospital on Thursday. Manuel Garcia Viejo had run a missionary clinic in the Sierra Leonean town of Lunsar.
Another Spanish missionary, infected in Liberia and treated with another experimental drug, died in Spain in August.
WHO: Still out of control
At the special UN meeting, WHO director Margaret Chan said the Ebola virus was "still running ahead, jumping over everything we put in place to slow it down."
Of the 6,300 so far infected, nearly 3,000 had died, the WHO said, adding that among those infected were 373 medical personnel.
Ban said the figures amounted to 200 deaths each day.
Quarantine in Sierra Leone
Koroma said Sierra Leone had put three more of its districts under indefinite quarantine after a three-day lockdown last weekend. He said the measure had been a "success" but had exposed "areas of greater challenges."
In New York the World Bank promised an additional $170 million, bringing its total pledges to $400 million. The EU pledged an additional 30 million euros, raising total EU funding to 180 million euros.
World Bank president Jim Yong Kim warned of a potential "meltdown" on the African continent.
Bundeswehr airlift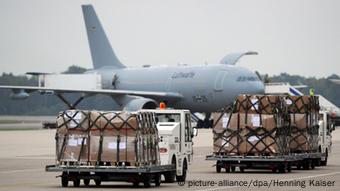 From Cologne, aid is on its way
The first German air force transport planes carrying field clinic equipment destined for Liberia left Cologne and Penzing near Munich on Thursday.
They were bound for Dakar, Senegal, which is to serve as a hub. Germany plans to airlift material on to Monrovia, Liberia, where the US has also focused its efforts by dispatching the first of 3,000 US troops.
France is reportedly focused on Guinea and Britain on Sierra Leone.
US President Barack Obama, speaking at the UN, said moving fast could save "hundreds of thousands of lives."
'Touched' by large response
The German military's call for service personnel and civilians to help in the West Africa epidemic region had drawn 4,500 volunteers by Thursday.
Defense Minister Ursula von der Leyen, herself a doctor, said she was "overwhelmed and touched" by the "incredibly" large number.
German Health Minister Hermann Gröhe issued a similar appeal for professional medical volunteers who would receive additional Red Cross training before departure.
ipj/dr (epd, dpa, AP, AFP)