Greece's debt repayment calendar is well packed. On May 1, some 200 million euros ($215 million) need to go to the International Monetary Fund, with more tranches to the IMF worth 2.5 billion euros to follow until mid-June. Those are repayments for loans the IMF had granted Athens in the framework of international rescue packages.
IMF chief Christine Lagarde has made a point lately of any repayments having to come on time, adding that in the past 30 years the Washington-based institution has never granted a grace period.
"We have never had an advanced economy ask for payment delays," the Fund's managing director told reporters in Washington, at the opening of the IMF-World Bank spring meetings.
"It's clearly not a course of action that would actually fit, or be recommendable in the current situation, she said, adding that the IMF was an institution based on rules, meaning no concessions could be made to Greece because of the stipulations in place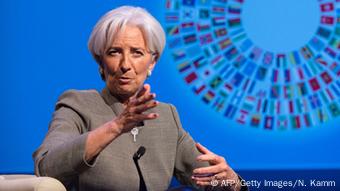 Lagarde thinks little of getting due repayments later
"An institution based on rules" is a term that ECB President Mario Draghi also loves to employ in his speeches, but rules very often leave quite some room for interpretation. The massive bond-buying program for instance is - in the view of many critics - not covered by the central bank's mandate. But this hasn't kept Draghi from pumping 60 billion euros into markets on a monthly basis.
ECB ratchets up pressure
In line with its own rules, the ECB ought not to have accepted Greek sovereign bonds as collateral when their rating hit rock bottom. Instead, an exceptional regulation was approved to circumvent those rules. In February, shortly after Alexis Tsipras took office as Greek Prime Minister, that exceptional regulation was canceled again, thus cutting off Athens from one of its major sources of finance. ECB officials justified the move by saying they did not expect the auditing of Greek's reform program to be completed successfully.
And just because Greek banks do not have direct access to ECB money anymore, they have to resort to emergency liquidity assistance (ELA) provided by the Greek central bank. Credits though that are expensive and have to be approved by the ECB, which keeps banks on a short leash by raising ceilings in much smaller increments than back when the old government was still around.
Adding to the pressure had been the ECB's decree in March to put a cap on the volume of short-term T-Bills banks would be allowed to buy.
Securing money on regular financial markets is no option for Greece. Following a meeting between Lagarde and Greek Finance Minister Yanis Varoufakis in Washington last week, yields for three-year sovereign bonds had soared by 27 percent, reaching their highest level since the 2012 haircut.
No money anywhere
This is why Greeks are so keen on quickly getting the 7.2 billion euros in bailout funds already negotiated with them. But creditors are holding back the money, saying the Tsipras government's reform drive is lackluster.
On February 20, the Eurogroup had decided the extension of the aid program until June. That was hailed as a success back then, but didn't bring much clarity as to how much austerity Athens would have to agree to in return.
Continuing down the path of the old austerity program has been unacceptable for the Greek government, which won the election on a pledge to end what it perceived as unsocial and economically unviable measures. Any alternatives Athens has come up with so far have been turned down by the Eurogroup as not going far enough.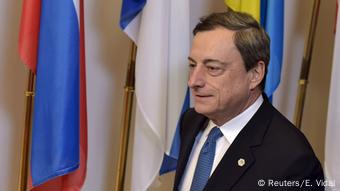 Draghi's monetary policy has been flexible - but towards Greece he's been tough
In the face of empty coffers, Lagarde said there was no time to waste, adding it was no matter that could be decided at the eleventh hour and pointing to the Eurogroup finance ministers and auditors
Next window of opportunity in Riga?
Tsipras said last week he was confident a solution could be found by the end of the month despite unresolved issues surrounding labor and pension reforms as well as tax hikes and privatization schemes.
Next Friday, Eurogroup finance ministers are meeting in Riga. But German Finance Minister Wolfgang Schäuble warns against being too optimistic. "There's nothing new yet, and I doubt there will be anything new in Riga," he said at the IWF spring meeting in Washington.
The pressure on Greece to meet creditors' savings and reform demands is getting bigger by the day. Tsipras, an atheist and the first Greek Prime Minister who didn't swear on the Bible when inaugurated, has meanwhile started a dialogue with the Orthodox church. Its head, Hieronymus II, had offered to help the government look for new financial sources.