Scientists with the Consultative Group on International Agricultural Research (CGIAR) in South Africa affirms climate change will put pressure on water resources. The group's recently released analysis of 10 river basins around the world shows potentially higher temperatures and increased evaporation, along with enhanced weather extremes such as droughts and floods, which could enhance future conflicts. But Alain Vidal, director of the water and food program with the group, thinks optimism is the key to finding solutions.

Deutsche Welle: You recently published a study focusing on Africa's biggest river basins. How many people depend on the water in these river basins, and for what purposes do they need that water?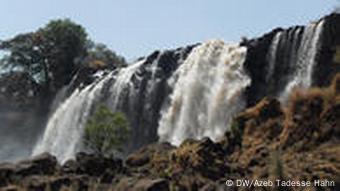 Most of the Nile's water originates in Ethiopia and Eritrea
We've are actually working on a study that covers 10 large river basins around the world, four of them in Africa. Those are quite amazing basins. The four African basins are home to probably 700 million people, half of them extremely poor. In basins affected by poverty, water plays a critical role, especially for enabling and ensuring food production.
What is the biggest challenge you see with climate change in the next few years affecting these regions?
What we know is that the variability will increase – we will have more intense rainfall and longer dry spells. This presents additional challenges. Solutions we are developing, like rainwater management strategies – for example, small reservoirs – have to be calibrated, not only for what has been happening in this basin for the last 10 to 20 years, but for climatic conditions that we don't necessarily know.
Just looking at the Limpopo Basin, a big basin in southwest Africa, we know that according to climate change scenarios, there will be areas that will be on the average dryer, and some wetter. It's a basin where climate change has already been perceived by farmers. Farmers there have started designing strategies to adapt to climate change.
Africa is hoped by many to be a future breadbasket – China and some Western countries are currently leasing large agricultural tracts in Africa for their own food production. Given your predictions, do you think agricultural production can really be increased in the future, with these weather changes?
Vidal says Africa's food production capacity is underused
Africa is certainly the continent in the world where the margin for increasing food production is the largest, because Africa is far below its productivity potential. Of course, any investment made today will have to account for future climate variability. But there is no guarantee of foreign investment, or that foreigners would invest in resilient technologies that can cope with climate change.
In that case, what should be done?
What is missing is not so much water. It's solid institutions and the political will to tackle the issue of water through policies, and to invest in lasting solutions.
How important is water management as a topic in the upcoming Durban conference on climate change?
We will have an event on the agricultural research and development day in Durban, on rainwater management strategies and rainwater harvesting. My personal fear is that people may be more focused on short-term solutions for the ongoing economic crisis, rather than looking at the long-term solutions that climate change requires from us.
Your study talks about conflict around water, particularly where it's getting scarcer – for example, what's happening in Egypt with the Nile. How will rising temperatures affect this already tricky situation?
Certainly, climate change will exacerbate tensions over water. But I've never personally felt that in the future, there will be wars resulting from water. What human history has shown us is that even in periods of scarcity, water has been more used as a tool for negotiation and collaboration than as an instrument of conflict. If there are conflicts, it's because there's political will to exacerbate conflict.
It's the same thing with climate change. It's too easy to point to climate change as a factor of tension and insecurity.
Would you say climate change can even present chances and not just challenges?
It poses chances! In Egypt, the situation in places that have been benefitting from much more water that what they should be receiving, according to the treaty, is now changing. They've realized that if they want to keep enough water at home, they have to change irrigation systems, and this is what they are doing. So, this apparent tension can also be a trigger for more collaboration between countries.
What makes you so hopeful about the challenges of the future?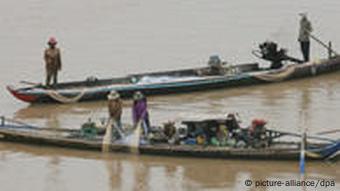 The Mekong River is a critical fishery for millions in Southeast Asia
I have the privilege of leading a program where I see people collaborating on solutions that work locally and nationally, and bring people together in dialogue. We've managed, for example on the Mekong Delta, to have the energy, agricultural and water ministers speaking together around a table, discussing the potential benefits of dams for hydropower, food production, fisheries and so on. This keeps me optimistic.
And, I've always believed that human beings are more of a cooperative than individualistic nature. So, I still have great, great hope in humans.
Interview: Anke Rasper
Editor: Sonya Angelica Diehn