The attorney general of Washington, DC, filed a suit against Facebook on Wednesday for allowing Cambridge Analytica to access the personal data of residents of the US capital.
Facebook earlier this year admitted that a third-party personality quiz app collected the personal information of users' friends, and the information was sold to the London-based political consulting firm Cambridge Analytica. Some 87 million users worldwide were affected.
Read more: Facebook's Cambridge Analytica data scandal: What you need to know
In Washington, more than 340,000 residents were impacted but only 860 took the quiz, DC Attorney General Karl Racine said.
The lawsuit alleges Facebook knew in 2014 that the app was collecting information on users' friends but failed "to monitor or audit the app."
"We're seeking to hold Facebook accountable for jeopardizing and exposing the personal information of tens of millions of its users," Racine said. "We hope this lawsuit will ensure Facebook takes better care with its data."
Read more: Facebook 'sorry' after new bug exposes millions of photos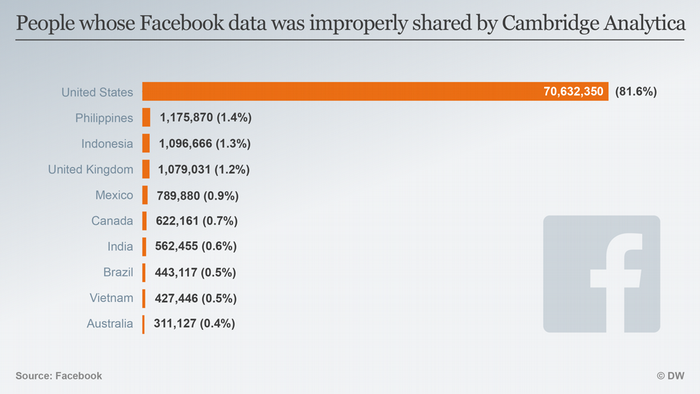 In response to the lawsuit, Facebook said in a statement, "We're reviewing the complaint and look forward to continuing our discussions with attorneys general in DC and elsewhere."
The legal action, the first attempt to punish the social media giant over privacy violations, could lead to civil fines against Facebook of up to $1.7 billion (€1.5 billion).
Read more: Facebook apologizes after privacy 'bug' makes posts of 14 million users public
The Cambridge Analytica data was used by US President Donald Trump's election campaign and the campaign for Britain to leave the European Union.
The scandal has raised scrutiny of privacy protection at the world's largest social media company, which has been hit by multiple data breaches impacting millions of users.
cw/sms (AP, dpa, Reuters)
Each evening at 1830 UTC, DW's editors send out a selection of the day's hard news and quality feature journalism. You can sign up to receive it directly here.