They had been expecting the protests. But, as Lilli Kobler, head of the Goethe Institute in Khartoum, said, "we were surprised at the scope of the violence." She said she didn't leave the house on Friday (14.09.2012), following the advice given to German citizens in Sudan by the German embassy. "Fridays are usually quiet days, the shops are closed, and people stay at home." Fortunately, she added, the Goethe institute was not affected, and because of the Islamic day of rest, the institute was closed anyway.
Whether the German embassy was explicitly targeted remains unclear. But there is speculation that the embassy may have just been a random target, since it's one of the only few houses of foreign representation in Khartoum's city center. And it's close to one of the mosques, from which angry demonstrators set out after Friday prayers.
Angry about Mohammed caricature
According to observers in Khartoum, tensions in Sudan have been rising for days. Last week, after Friday prayers, radical Imams first called on their followers to stop all collaboration with Germany. They said Germany belonged to the group of western states that are against Islam.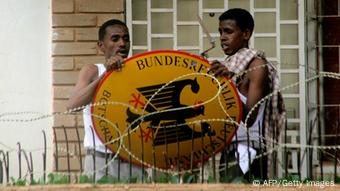 According to a newspaper article, the attacks were planned
Fuel was added to the fire last Thursday. According to a report by Sudanese newspaper "Sudan Tribune", the official representatives of Imams criticized the fact that people were showing caricatures of the Prophet Mohammed outside mosques in Berlin. The article continued by saying that extremist preachers with connections to Salafists were planning to hold demonstrations outside the German and British embassies the same day. The paper said those in favor of a peaceful protest were booed at the meeting. Some allegedly chanted anti-German slogans. It is almost impossible, however, to prove the article's claims.
Poverty and lack of perspective
According to Florian Dähne from the Friedrich Ebert Foundation's (FES) Sudan office in Khartoum, Sudan is a good breeding ground for protests such as this. "There are many frustrated young people who don't see any prospects for themselves in Sudan because of the difficult economic and social conditions here," Dähne said on behalf of the German political research institution.
Teenagers and young adults are particularly hit by the economic hardship. When South Sudan became independent in 2011, the North had to let go of three quarters of its oil reserves. Ever since, the country's currency has been rapidly falling in value, and inflation has been on the rise. Almost half of all people in Sudan live beyond the poverty line, and one quarter of young people are unemployed.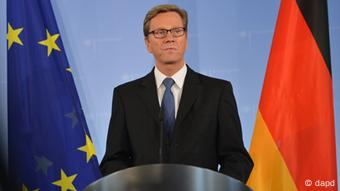 Foreign Minister Guido Westerwelle condemned the Khartoum attacks
And yet, on Friday, the website of the German embassy in Sudan still read: "Bilateral relations between Germany and Sudan can be described as good." And Lili Kobler from the Goethe Institute agreed: "Up to now, we haven't observed that people think of Germany as a country that's hostile towards Islam." The Goethe Institute has been operating in Sudan for 50 years, and German language classes are still popular, said Kobler. "People here appreciate Germany for its technology and science."
Germans stay in Sudan
Despite the attack, the German embassy has said it won't permanently shut its doors in Sudan. But on its website it said it was going to remain closed until Monday. There were also no reports about Germans intending to leave the country. "We're staying at home, we try not to attract too much attention as we wait for the situation to calm down," FES representative Florian Dähne said.