David Headley, a Pakistani-American convicted in the 2008 Mumbai terror attacks, has once again spoken about his close ties with Pakistani officials, especially with the Islamic country's Inter-Services Intelligence (ISI) spy agency.
55-year-old Headley, who was born Daood Gilani to a Pakistani father and an American mother, told a special Indian court via video link on Tuesday, February 9, that the ISI gave "moral, military and financial support" to Lashkar-e-Taiba (LeT), a Pakistan-based banned militant group accused of killing 166 people in Mumbai in 2008.
"Today David Headley has made certain sensitive revelations," Indian public prosecutor Ujjwal Nikam told reporters outside Mumbai's Sessions Court following the American's testimony. "Firstly, he said that he was working for the ISI... Headley further confirmed that the ISI and LeT had a close nexus with each other," Nikam added.
Headly, who was sentenced in 2013 by a US court to 35 years in prison for his role in the attacks, was pardoned by India in December in a separate case on condition that he testify to Indian authorities. He also revealed that LeT had been behind two failed attempted attacks on Mumbai in September and October 2008.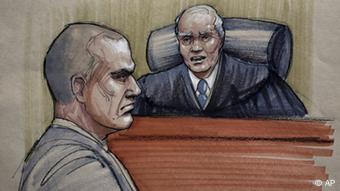 Headly was sentenced in 2013 by a US court to 35 years in prison for his role in the attacks
A source of acrimony
The Indian government blames LeT for the coordinated Islamist attacks on November 26, 2008 in the country's financial hub. Islamabad admits that the terrorist actions were plotted inside Pakistan by banned militant groups, but denies the role of the state in the activity.
Though LeT is banned in Pakistan, many of its leaders, including Hafiz Saeed and Zaki-ur-Rehman Lakhvi, remain free. They run Islamic charity groups and are free to hold public rallies across the country. Some analysts say the LeT leaders receive direct protection from the ISI, an allegation denied by Pakistani authorities.
The Mumbai attacks continue to be a source of acrimony between India and Pakistan. Indian officials demand that Islamabad hand over Saeed and Lakhvi to them. Pakistan has thus far refused to comply. But Headley's latest revelations about his links to the ISI and the Pakistani military's nexus with banned Islamist groups are likely to embarrass Islamabad further.
Will Islamabad cooperate with India?
Michael Kugelman, senior South Asia analyst at the Washington-based Woodrow Wilson Center for Scholars, says that while Pakistan has officially promised to cooperate with India in bringing those involved in the attack to justice, it hasn't really offered much support. "They have carried out arrests and contended they would let the legal process play out, but it all ends there," he told DW.
But will Headley's new testimony about the ISI's "direct involvement" in the Mumbai assault increase the pressure on Pakistani authorities to crack down on the LeT and its leaders?
"I don't think it is going to happen," Islamabad-based Pakistani journalist Abdul Agha told DW. "First of all, Headley hasn't said anything which he didn't say before. Secondly, arresting LeT leaders or handing them over to New Delhi would be synonymous with publicly admitting the Pakistani state's role in the Mumbai massacre. It would open up the Pandora's box," he added.
"The military, which has the real power in Pakistan, won't change its anti-India policies, at least not in the foreseeable future. The civilian administration led by Prime Minister Nawaz Sharif wants cordial ties with India, but the premier won't be allowed to go as far as implicating LeT leaders or the ISI officials in the Mumbai terror case to appease New Delhi and PM Narendra Modi," Agha said.
Nonetheless, Gauri Khandekar, Europe director of the Indian think tank Global Relations Forum, pointed to the seemingly increasing indications of a direct ISI involvement in the attacks.
"David Headley gave two names - Sameer Ali as a major in the ISI who had recruited him, and Sajid Mir as a man handling foreign recruits for the LeT - to a Chicago court," Khandekar told DW.
The emerging evidence and testimonies, as well as international pressure, could ultimately force Islamabad to abandon support for anti-India militant groups, some analysts argue.
No peace without acknowledgement
Savita Pandey, a professor of Social Sciences at Delhi's Jawaharlal Nehru University, believes the Indian government needs to be more assertive with Pakistan on the issue of Islamic terrorism.
"India has been a victim of cross-border terrorism since 1989. It needs to pursue a national policy against terrorism in congruence with international methods of counter-terrorism and counter-extremism," she told DW.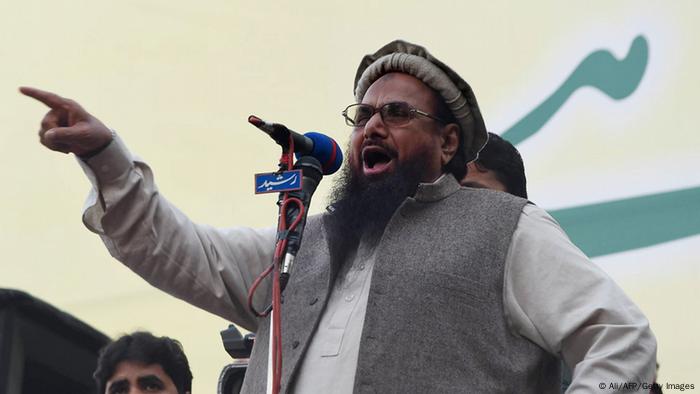 Some analysts say the LeT leaders receive direct protection from the ISI, an allegation denied by the Pakistani authorities
India has always insisted that justice for the Mumbai attack organizers be a precondition for reconciliation - or reconciliation talks - with Pakistan. "There have been ups and downs in the relationship over the past seven years - but while an improvement remains possible, prosecuting the masterminds of the Mumbai attacks remains a priority for India," said Dr. Gareth Price, senior analyst at the Asia Program at Chatham House.
In the same way, Pakistan has insisted on the precondition that the status of the disputed Kashmir region be re-examined. Neither side has budged on these demands.
"There won't be any real peace between India and Pakistan until the ISI is brought under civilian control and Islamabad abandons its support for jihadist groups," journalist Agha pointed out.
But Karachi-based veteran journalist Saleem Asmi says that PM Sharif lacks the will to tame the powerful intelligence organization.
Similarly, Arif Jamal, a US-based journalist and author of several books on Islamic terrorism and Pakistan, is of the view that "the absence of any real pressure from the West, particularly from the US, on the Pakistani military allows the Islamic country's security agencies to continue supporting terrorist organizations."
Additional reporting by Gabriel Domínguez.