Voters in France's outposts,including French Guiana and Martinique in Atlantic waters and French Polynesia in the Pacific, have began voting Saturday as mainland France readied for Sunday's first-round ballot.
The election includes near-frontrunners conservative Francois Fillon and radical leftist Jean-Luc Melenchon, and will decide the top two candidates for France's runoff ballot on May 7.
First to vote Saturday was Saint-Pierre-et-Miquelon off Canada's eastern coast and comprising a population of 6,000 on two islands.
Through Sunday, 47 million French are entitled to vote at 69,000 ballot stations up until 8 p.m. (1800 GMT/UTC) in major French mainland cities, the moment when first prognoses are legally allowed to be broadcast.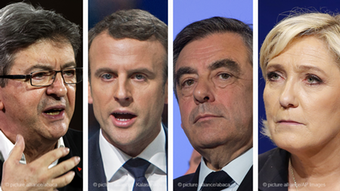 The top four: Mélenchon, Macron, Fillon, Le Pen
Sunday's outcome is also a litmus test for Europe, with Le Pen calling for a referendum on France's core membership of the EU following Britain's narrow decision to proceed with Brexit.
From Brussels on Saturday, European Commission vice president and energy chief Maros Sefcovic predicted that French voters would opt for the EU and to retain the so-called French-German "motor."
Ruling Socialists' Hamon only in 5th
Pre-elections surveys put Benoît Hamon of outgoing President Francois Hollande's Socialists only in fifth place, followed by six other candidates, all under the five-percent level.
Of all European heads of state, the French president has the greatest powers granted under France's 1958 constitution, including the declaration of emergency rule and the appointing of the prime minister.
France's current emergency - in effect since Islamist attacks in November 2015 - saw investigators continuing a probe Saturday into the jihadist who shot dead a policeman on Paris' Champs Elysees avenue on Thursday evening.
Le Pen, who heads the anti-immigration National Front (FN) on Friday called on France to impose tight border controls in view of the European Union's relatively lax borders policy and deport foreigners on a terror watchlist.
Former premier Fillon promised an "iron-fisted" approach. Macron urged voters not to give in to fear. He asserted that France was paying for intelligence services cuts when Fillon was in office between 2007 and 2012.
A survey conducted by the pollster BVA on Thursday and Friday showed Macron and Le Pen each on 23 percent, ahead of Melenchon on 19.5 percent and Fillon on 19 percent.
Young voters skeptical
Skepticism among potential young voters was expected to remain high. Surveys last month suggested that up to half of 18-to-25-year-olds planned to skip voting.
Socialist Anne Muxel who works for the European-wide survey entity Generation What said French youth's "defiance toward the political system is overwhelming."
Instead, they had a propensity toward direct protesting and civic engagement in projects such as helping pensioners and handicapped persons.
In 2012, during France's last presidential election, 19 percent of electors under the age of 25 did not vote. That was one-and-a-half times the absentee rate (13 percent) of the overall voting population.
ipj/rc (AFP, dpa)