Former Wall Street banker Pedro Pablo Kuczynski (pictured) had a razor-thin lead over Keiko Fujimori, thedaughter of Peru's imprisoned former president, in an election to be the country's next leader.
With nearly 95 percent of the ballots counted, the 77-year-old Kuczynski had secured a 0.45 percentage point lead over Fujimori. An earlier count with 90 percent of the vote processed on Monday morning had Fujimori behind by 1 percent.
Foreign-based voters represent 4 percent of the electorate and GfK pollster had the Kuczynski with a six-point lead among the largely US-based diaspora.
"The ballots from abroad have not arrived. We'll talk tomorrow," Kuczynski told journalists and supporters from his balcony on Monday.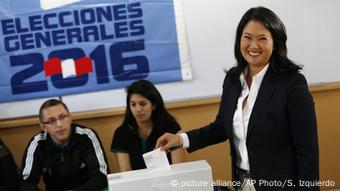 Keiko Fujimori
But Fujimori supporters appeared confident that votes from remote areas would strengthen her numbers. "As rural votes have come in, we're seeing the distance shortening," said lawmaker and Fujimori ally Pedro Spadaro. "We're sure that with the share still missing we'll be able to reverse the situation and of course come in first."
Dispute in the offing
Mariano Cucho, the head of the electoral office ONPE, said ballots from 1.5 percent of the votes had been disputed. An extended dispute could drag out a final determination, which otherwise is expected on Thursday.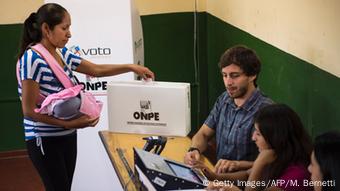 Casting a vote for a president
The 41-year-old Fujimori had been the clear favorite until her support eroded in the last few days of the campaign over the legacy of her father and allegations of corruption and money laundering directed at her and close aides. She accused the media of running a smear campaign to discredit her.
Former president Alberto Fujimori is serving a 25 year prison sentence for human rights abuses and corruption. He is a figure respected by some for defeating left-wing Shining Path guerillas and building rural schools and hospitals. But for others he was an authoritarian leader who shut down congress and ordered extrajudicial killings to squash the insurgency.
Similar backgrounds
Both candidates are US-educated fiscal conservatives who have said they would maintain a free-market model, although they widely differ on approaches. Both vowed to fight crime in the world's largest cocaine producer, but many believed Fujimori would be more relentless. They also both pledged to expand infrastructure and services.
The son of a German-Jewish doctor, Kuczynski cut himself as a figure that could battle corruption and guide Peru's economy along a path of growth.
A victory for the economist would pit his agenda against a potentially hostile congress controlled by opposition groups and regional interests, said Luis Benavente, director of consultancy Vox Populi. "He will have to work hard to build bridges."
cw/jm (AFP, AP, Reuters)