Presidential candidate Pedro Pablo Kuczynski (photo center) had a narrow lead early Monday over Keiko Fujimori in an election still too close to call in Peru.
With nearly 90 percent of the ballots counted, former Wall Street banker Kuczynski had secured 50.5 percent of the vote against the daughter of the imprisoned ex-president at 49.5 percent.
"We still haven't won," cautioned Kuczynski, a 77-year-old former prime minister, investor and World Bank economist. He has vowed to have a government built on consensus.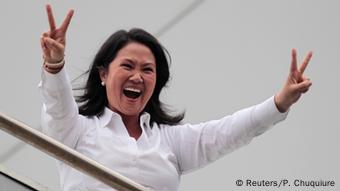 Keiko Fujimori
Fujimori showed no sign of conceding defeat.
"We're going to wait with prudence because all night votes will be coming in from the provinces, from abroad and from the rural voters of deep Peru," she said.
Final results were expected later on Monday.
Fiscal conservatives
Both candidates are fiscal conservatives who have said they would maintain a free-market model, although they widely differ on approaches. They have also vowed to fight crime and create jobs in the Andean nation.
Fujimori had a steady lead in the race until the last few days as support for her faltered over the legacy of her father and a series of scandals, including one involving money laundering allegations. She accused the media of running a smear campaign to discredit her.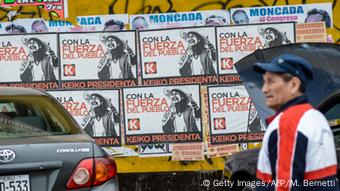 Political posters in Lima, Peru
Problematic past
The runoff election has raised the specter of Peru's dark past. A conflict with the leftist Shining Path group between 1980 and 2000 left an estimated 70,000 people in the country.
Fujimori's father, Alberto Fujimori, served as Peru's president from 1990 to 2000, during which he enforced massacres of alleged terrorists. He is serving a 25-year prison term for corruption and human rights abuses.
"We want no more dictatorships. There was a lot of repression and a lot of people died and disappeared," said 61-year-old Enrique Castillo, who was in line to vote at a polling station.
Violent crime
However, Fujimori's supporters see her as the answer to a wave of violent crime in Peru, a major cocaine-producing country.
"Her father did good things too against crime," said 45-year-old administrative worker Silvia Cuadros before casting her vote.
"Our parents may make mistakes, but that does not mean their children will do the same," Cuadros added.
The EU and the Organization of American States (OAS) deployed monitoring missions to observe the runoff elections in Peru, home to about 23 million eligible voters.
cw/jm (AFP, Reuters)