Authorities are looking into possible irregularities in Peruvian presidential candidate Keiko Fujimori's finances, prosecutors confirmed on Friday ahead of a June 5 election.
"It's a preliminary investigation that may or may not go on to a preparatory stage" for presenting charges, Attorney General Pablo Sanchez said after an event on battling corruption. "More evidence is needed to make a decision."
The 60-day investigation was opened quietly in March and has been extended, Sanchez said, confirming media reports based on leaked documents.
The money laundering probe is looking into Fujimori's campaign contributions, as well as her US-American husband's land deals totaling almost $1 million (891,000 euros).
The suspect transactions include two cocktail fundraisers for donors, as well as wire transfers to her campaign from LVF Liberty Institute - a company registered inthe US state of Delaware.
Campaign corruption
The center-right candidate called the accusations baseless and said the investigation was aimed at boosting her political opponent, Pedro Pablo Kuczynski, ahead of Peru's election.
"I find it interesting that these types of reports ... are revealed two weeks from the presidential election," Fujimori said at a news conference.
"We know there will be more allegations and lies. I ask Peruvians not to let themselves be deceived," she said.
Recent polls show that the two candidates are neck and neck, with a slight edge for Fujimori.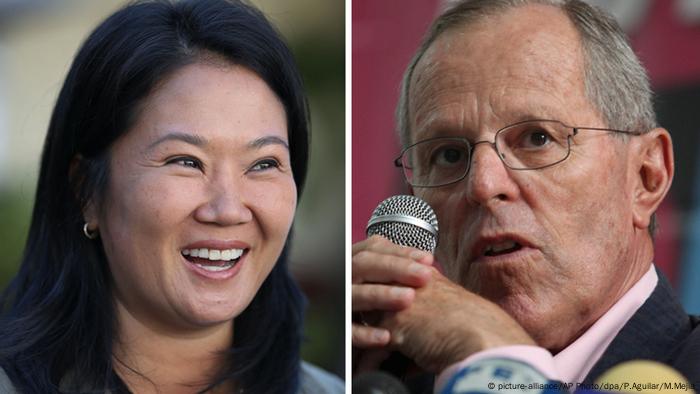 Polls show a near tie between Fujimori (L) and opponent Kuczynski (R)
Difficult paternal legacy
Fujimori, the daughter of imprisoned ex-President Alberto Fujimori, has been facing increasing allegations of links to illicit funds.
Just two day prior to Friday's announcement, Fujimori's senior aide resigned after Univision reported that the US Drug Enforcement Administration was also investigating him for money laundering.
Fujimori has struggled to distance herself from the corruption and abuses of her father's 1990-2000 government. The elder Fujimori is now serving a 25-year-sentence for corruption as well as for sanctioning death squads.
Despite her narrowly topping the polls, tens of thousands took to the streets in the capital, Lima, last month to protest Fujimori's candidacy over concerns that her presidency would be a repeat of her father's reign.
rs/ tj (AP, Reuters)