Danish postal officials say that they are just weeks away from a new system that will allow Danes to buy virtual stamps via text messages from their mobile phones.
Henrek Larsen, the head of private customers at Post Danmark, told Deutsche Welle that the new system would debut on April 1, 2011 and would cost eight Danish kroner (1.07 euros) - the same as an "A-Post," or a normal, first-class, domestic letter stamp, for letters up to 50 grams.
Currently, 800 million such letters are sent around Denmark every year.
The new mobile system works like this: After a mobile user texts the word, "porto," to the number 1900, then Post Danmark sends back a confirmation message. Following this, the mobile user receives a string of letters and numbers that he or she can then write on an envelope, in place of a regular stamp.
"The point is that we know that the Danes love to send letters, and to receive letters but they find it difficult to find the address, and an envelope and to get up and to pick up the stamps," Larsen said.
"When I look at my daughter, 19 years old, they are always running around with their mobile phone. When they want to send something special, and they want to use a letter - this will be much easier."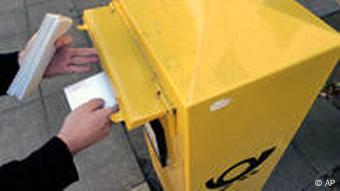 Deutsche Post introduced stamps via text message in 2008
Post Danmark inspired by Deutsche Post
For now, the system is only designed to work for people that have a subscription with a Danish mobile provider. Larsen said pre-paid accounts from Denmark or other mobile accounts from abroad were not supported yet.
Once the letter arrives at a postal sorting facility, postal workers will have to check to see that the written code matches a list of known valid codes. Larsen noted that initially much of this scanning would be done manually, but that there were some machines that could scan the written codes.
This new mobile stamp system comes 2.5 years after a similar system debuted in Germany. However, the Handy-Porto system from Deutsche Post increases the cost of a stamp from 0.55 euro cents ($0.76) to 0.95 euro cents when purchased via a mobile phone.
Larsen added that Post Danmark was inspired by the German system, and has consulted with German postal officials.
However, while some mobile experts were intrigued by this concept of mobile stamps, they were worried about the system's security.
"I can see this system being 'gamed' and [think that it] will not last very long for individuals," wrote Mark Kramer, a doctoral candidate in mobile learning at the University of Salzburg in Austria, in an e-mail to Deutsche Welle.
"However, It would be quite interesting for businesses to create customized markers, possibly [augmented reality markers] to prove that the stamp was bought."
Author: Cyrus Farivar
Editor: Nathan Witkop