Hoang has been eating dog meat since he was young. He can't imagine there will be a time that he won't be eating it at least twice a month. However, Vietnamese officials announced in September that dog and cat meat should no longer be served in the inner districts of the capital city Hanoi because it's offensive to tourists and can spread diseases like rabies.
Read more: Illegal dog meat trade raises moral questions
Dog meat lovers and restaurant owners fear that the government will try to expand the ban and decide to officially forbid eating dog and cat meat entirely.
"I don't see how they can ban it. The demand is just too high," Hoang said at a restaurant in Vietnam's largest metropolis, Ho Chi Minh City.
In a small alley in Ho Chi Minh City, at least four restaurants serve dog meat, or "Thit cho." People gather around small tables to dine on the canine meat, complementing it with rice wine or beer.
Hoang, who declined to give his full name, is sitting at a table with three good friends. "For us it's a tradition to eat dog meat. It's just as normal as eating seafood or chicken," he told DW.
Read more: China's new love affair with dogs - as pets, not food - presents environmental problems
It's a point many Vietnamese people make. For them eating dog meat is no different than eating any other type of meat. Additionally, some Vietnamese believe that eating dog meat by the end of the month will help them to get rid of bad luck gathered in the weeks before. It's why these types of restaurants are always more crowded when the month comes to an end.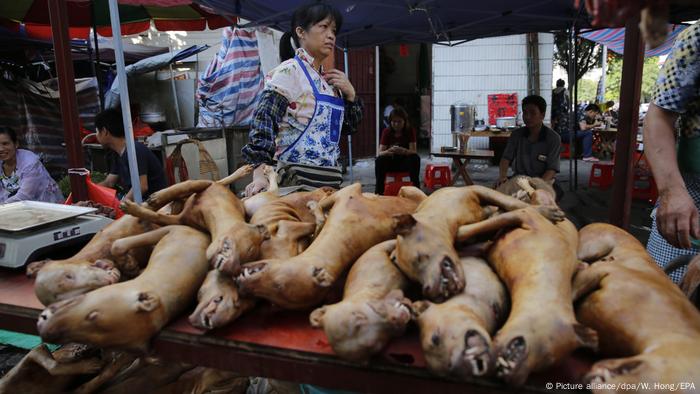 Slaughtered dogs for sale at an annual dog meat festival in Yulin, China
Tradition vs. international image
The Vietnamese government has a different view on things. Officials in Hanoi say that eating dog meat is damaging the reputation and image of the capital city. They also say that eating the meat could lead to a deadly rabies infection.
In Ho Chi Minh City, authorities are also taking a tougher stand. In September, the city's largest dog meat market was raided. According to Vietnamese state media, many vendors were fined and a large amount of raw dog meat was confiscated because it came from unknown sources. In Vietnam dogs are often stolen from pet lovers and then sold to restaurants.
Mr. Chien, who didn't want to give his full name, has been selling dog meat for 10 years in Ho Chi Minh City. He said that pressure on him and his colleagues has grown in the past five years. He needs to be very transparent about where his dog meat comes from.
Read more: Sieren's China: Beef, pork, dog
"All the meat I'm selling comes from a qualified supplier," he told DW. "I have all the papers and licenses that are necessary. Society has been looking down on us, so I need to have my business as clean as possible," he added.
His restaurant is a popular establishment in the city. Each month he attracts about 1,000 customers, whom altogether eat about 100 dogs per month. "It's a business. If there's demand, then there is supply," Chien said.
An estimated 5 million dogs are consumed every year in Vietnam. Only China, where roughly 20 million dogs are consumed every year, eats more of "man's best friend."
Animal rights activists support a ban on dog meat. They have been campaigning for years to get the controversial dish removed from menus, pointing out that the slaughter of dogs and cats is brutal and that Vietnamese people often fear for the safety of their pets.
Mr. Chien is aware of the resistance to dog meat. He said he will stop selling it if the government issues a ban – but he doubts it will go that far. "I think it's a tradition that's been here too long to ban it entirely."