The Venezuelan government released American missionary Joshua Holt and his Venezuelan wife Thamara Caleno on Saturday, after two years behind bars on weapons charges.
The release follows a concerted diplomatic effort from US Senators, former president Barack Obama's administration and current president Donald Trump, to lobby the Venezuelan government for their freedom.
Read more: Sanctions or diplomacy? Venezuela election divides EU lawmakers
Holt and his wife reunited at a Caracas airport, along with one of her daughters from a previous relationship. There they met US Senator Bob Corker, the Chairman of the Foreign Relations Committee, who had flown to Caracas to discuss the impending release with President Nicolas Maduro. "We are on our way home," Corker tweeted.
Upon arrival in Washington, Holt met with President Trump at the White House. "I'm just overwhelmed with gratitude," said Holt, at the Oval Office.
"Those two years, they were a very, very, very difficult two years. Not really the great vacation that I was looking for ... I'm just so grateful for what you guys have done," he added.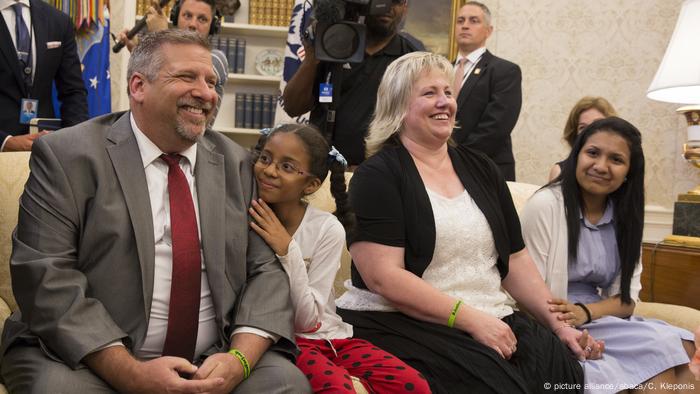 Holt's family at the oval office
A wedding and a nightmare
Josh Holt was arrested in June 2016 when he had traveled to Venezuela to celebrate his wedding to Thamara Caleno. He had met Thamara online and both shared the Mormon faith. The two came into contact as Holt was seeking to meet Spanish-speaking Mormons to improve his Spanish skills.
Holt was hoping to spend several months with his new wife in Venezuela, while he processed visas for her and her two daughters to return with him to the US.
But the couple was detained and held without trial at the headquarters of intelligence agency SEBIN (Bolivarian National Intelligence Service (Spanish: Servicio Bolivariano de Inteligencia Nacional, SEBIN)), in Caracas. Authorities accused them of stockpiling weapons and espionage against the Venezuelan government. Just earlier this month, the number two official in Venezuela's government had pledged to keep Holt behind bars and labeled him "the head of U.S. espionage in Latin America."
Holt's family accused the Venezuelan government of framing the couple. The US government accused Maduro's government of using Holt as a bargaining chip, as Washington had leveled sanctions against it in the meantime.
Holt's mother, Laurie Holt, said her son has suffered numerous health problems, including kidney stones, respiratory problems, depression and weight loss, while in custody.
In a statement, the Holt family thanked everyone who had "participated in this miracle" and asked the media to respect the family's privacy. "We ask that you allow us to meet with our son and his wife before giving any interviews and statements."
Read more: Venezuela's economic demise hovers over elections
A goodwill gesture
Venezuela's communications minister, Jorge Rodriguez, said that Holt's release was a goodwill gesture from Maduro's government toward the US.
"We're praying that this type of gesture ... will allow us to strengthen what we've always sought: dialogue, harmony, respect for our independence and respect for our sovereignty," he said.
The release comes just under a week after Maduro was re-elected to a second term in a widely criticized vote. On Thursday, the Venezuelan president had announced that he intended to release an unspecified number of political prisoners.
Sanctions relief unlikely
Vice President Mike Pence dispelled any rumors that the Venezuelan government might get sanctions relief in return for Holt's freedom. In a tweet, Pence said that sanctions would continue "until democracy returns to Venezuela."
The statement was echoed by Secretary of State Mike Pompeo, who also reinforced the notion that US policy will remain unchanged. "The United States stands steadfast in support of the Venezuelan people and their efforts to return to democracy," Pompeo said in a statement.
jcg/bw (Reuters, AFP, AP)
Each evening at 1830 UTC, DW's editors send out a selection of the day's hard news and quality feature journalism. You can sign up to receive it directly here.