Authorities in Venezuela have arrested two high-ranking military officers over the alleged assassination attempt on President Nicolas Maduro, bringing the total number of detained suspects to 14, Chief Prosecutor Tarek Saab said on Tuesday.
The officials identified the two military officers as National Guard Alejandro Perez and Colonel Pedro Zambrano. The pair appeared before court together with opposition lawmaker Juan Requesens, who was arrested last week.
Two commercial drones, allegedly laden with C-4, detonated while Maduro was giving a speech on August 4 in Caracas. The government soon announced that a group of 11 hitmen was behind the attack, adding they were financed from Bogota and Florida. The group was allegedly offered $50 million (€44 million) and a safe haven in the US in exchange for killing Maduro.
On a Tuesday press conference, Saab said that "14 out 34 people involved have been brought before court and charged."
The remaining suspects are still hiding in Colombia and the US, according to Saab.
Maduro has publically blamed opposition leaders for the attack, slamming the detained Juan Requesens as one of his "craziest and most psychopathic" rivals.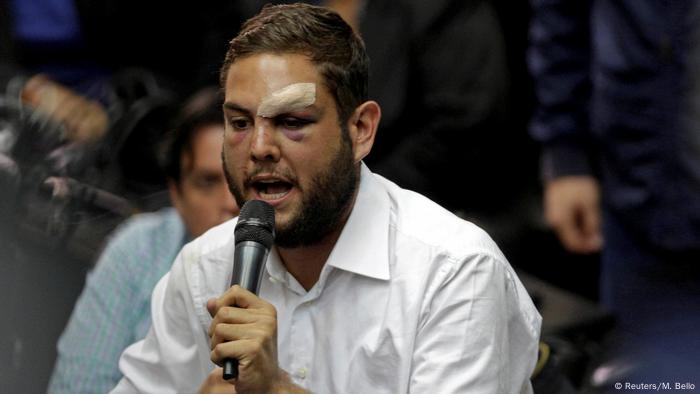 Venezuela Juan Requesens is pictured addressing the National Assembly after being injured in a 2017 rally
The opposition has accused the government of using the incident to "irresponsibly and sweepingly" attack its opponents.
Last week, deputies in Venezuela's Constituent Assembly, the body set up by Maduro as a counterweight to the opposition-dominated parliament, passed measures to remove immunity from lawmakers. The move aims to facilitate prosecution for politicians suspected of involvement in the drone attack.
dj/rc (Reuters, AFP, EFE)