The US embassy in Sudan on Sunday sent out a security alert to its citizens in the country warning of possible protests near local broadcaster Sudania 24, which collaborated with DW to produce a "Shabab Talk" episode on women's rights. The protests, however, did not take place.
An embassy public affairs officer told DW that the notification had been sent as a "routine" alert to US citizens to inform them of the situation and the potential for the protests to turn violent.
Earlier this week, DW's Arabic-language show "Shabab Talk" hosted by Jaafar Abdul Karim sparked controversy in Sudan after a woman gave a passionate speech decrying sexual harassment in the country.
Addressing an Islamic scholar on the show, 28-year-old Weam Shawky criticized societal norms targeting women in the northeast African country. "When I'm walking on the street and a man treats me like an object, not as a human being, the person who gives him the right to harass me, he is sick," she said.
Read more: Women's rights in the Islamic world
Religious offensive
Shawky's plea triggered a heated debate across Sudan and the region about gender inequality. On Friday, Islamic preachers criticized the show and its local collaborator, Sudania 24. One cleric even accused "Shabab Talk" host Karim of attempting to "spread atheism" in the country.
Militants have also issued death threats against Karim and the owner of Sudania 24. Some have tempered the threats and instead urged Sudanese authorities to shutter the broadcaster.
Meanwhile, some religious leaders have gone after Shawky for her passionate appeal for respect. "She gets up in the middle of the show and demands equality between men and women. She did this without wearing a headscarf and with a loud voice. What a joke," said Khartoum-based imam and TV preacher Abdulhay Yusuf.
Read more: Jaafar Abdul-Karim: 'Does the Arab world need a women's rights revolution?'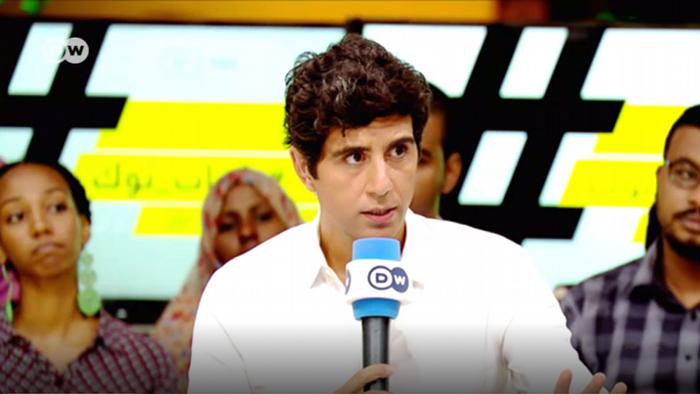 "Shabab Talk" host Jaafar Abdul Karim has received death threats from militants in Sudan
'Strong women in Sudan'
Despite the threats, Shawky's speech on the show has received praise from across the globe, with many describing her as a symbol of courage in the country.
Yemeni journalist and radio anchor Hind al-Eryani praised her for standing up to the scholar, saying: "Big shout out to strong women in Sudan."
"Shabab Talk" host Karim said religious clerics are using "hate speech" against those who are talking about women's rights in the country. "But it is motivating to see that there is a lot of support from a younger generation that believes in women's rights," he said.
Sudan is one of a handful of countries in the world that has not signed the UN Convention on the Elimination of All Forms of Discrimination against Women (CEDAW). Human rights groups have long criticized Sudanese authorities for what they call the "criminalization of women."
Read more: Saudi women's rights activist Madeha Alajroush: 'Finally, I am celebrating'
Each evening at 1830 UTC, DW's editors send out a selection of the day's hard news and quality feature journalism. You can sign up to receive it directly here.