Forty-six-year-old Beau Biden who served in Iraq as a lawyer with the Delaware Army National Guard, had been undergoing cancer treatment at the Walter Reed Medical Center near Washington.
His family were by his bedside when he passed away on Saturday (local time).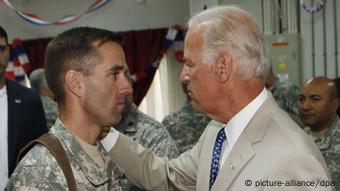 Joe Biden, right, with his son, Beau Biden, at Camp Victory on the outskirts of Baghdad, Iraq in 2009
"He battled brain cancer with the same integrity, courage and strength he demonstrated every day of his life," the vice-president's family said in a statement.
"The entire Biden family is saddened beyond words. We know that Beau's spirit will live on in all of us – especially through his brave wife, Hallie, and two remarkable children, Natalie and Hunter."
Beau Biden was diagnosed with brain cancer in August 2013 and underwent surgery, radiation and chemotherapy.
After being receiving "a clean bill of health" in November of that year, the cancer returned at the beginning of 2015, the vice president's office said.
A popular Democrat in his East Coast state of Delaware, Beau Biden, was expected to follow in his father's political footsteps. Last year he announced his plan to run for governor of Delaware in 2016.
Beau Biden joined the US National Guard in 2003, working as a judge advocate general, or military lawyer, and was deployed to Iraq in 2008, as his father campaigned for the vice-presidency under Barack Obama.
Obama paid tribute on Saturday, praising the young Biden's devout commitment to his family. "Like his dad, Beau was a good, big-hearted…man, who made a difference in the lives of all he touched," Obama said in a statement.
Hillary Clinton was also touched by the news, writing the following on Twitter.
As was Jeb Bush, the likely 2016 Republican presidential candidate.
jlw/jil (AFP, Reuters)