The US Army's Europe headquarters located in Wiesbaden, Germany announced late Saturday that 1,000 US troops and their vehicles would be sent to northeastern Poland at the end of March.
The unit - part of 4,000 US troops being deployed in rotation along NATO's eastern flank under its "Forward Presence" initiative - will be located at Orzysz.
The Polish town lies 137 kilometers (85 miles) from Kaliningrad, Russia's heavily armed Baltic military exclave.
Saturday's announcement, carried by the German DPA news agency, coincided with the Munich security conference where Russian Foreign Minister Sergei Lavrov accused NATO of being a relic of the Cold War.
US Vice President Mike Pence sought to reassure Baltic and Black Sea nations, especially Ukraine, of continuing US support in the wake of Russia's seizure of the Ukrainian peninsula of Crimea in 2014.
Lithuania: planning 'no longer sufficient'
From Vilnius, President Dalia Grybauskaite of the Baltic nation of Lithuania told the news agency AFP that mission planning adopted at a NATO conference in Warsaw last year was "no longer sufficient."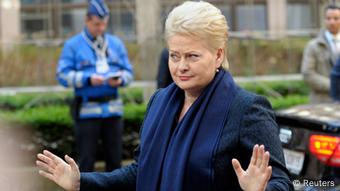 Precautions no effort, says Grybauskaite
"Without the support of the US air defense systems, we will not have full protection," she said.
"We need a faster decision-making process," Grybauskaite added.
Missile tensions
Poland and Romania host two US missile interceptor stations viewed by Moscow as a threat on its doorstep. Last year, it deployed Iskander missiles into Kaliningrad.
Last weekend, Polish Prime Minister Beata Szydlo welcomed the arrival of a US armored brigade for training with Polish forces at Zagan, a town in southwestern Poland, just 70 kilometers from the eastern German city of Cottbus.
In January, the brigade's 87 tanks and an array of other vehicles had arrived by ship in Bremerhaven in western Germany.
Black Sea 'training'
Earlier this week, NATO chief Jens Stoltenberg said the alliance would also step up "enhanced training" in the Black Sea regions but only as a "defensive" measure.
"We don't want to provoke a conflict. We want to prevent conflict and preserve the peace," Stoltenberg said.
NATO allies Turkey, Bulgaria and Romania share the Black Sea coastline, as do partner nations Ukraine and Georgia, both of which have territorial disputes with Moscow.
ipj/bw (AFP, dpa, AP)