Speaking as he arrived at the two-day summit on Friday, US President Barack Obama confirmed that the States would be the "lead nation for the NATO presence here in Poland."
"That means the United States will deploy a battalion, roughly 1,000 American soldiers here in Poland on a rotational basis to serve shoulder to shoulder with Polish soldiers," Obama said.
"In addition, when a new US armored brigade begins rotating through Europe next year, its headquarters will be here in Poland," he added.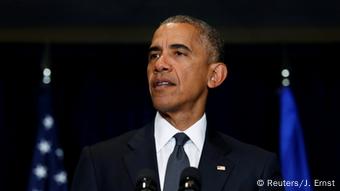 NATO summit
Obama's announcement on Friday came as NATO leaders met in Warsaw to discuss a response to what they see as aggressive Russian actions in eastern Europe, specifically in Ukraine. The summit is regarded as one of the most important such gatherings since the end of the Cold War.
Several world leaders are attending the meeting, including Obama, German Chancellor Angela Merkel and Turkish President Recep Tayyip Erdogan.
'We don't want a new Cold War'
The US troops in Poland are part of a larger NATO effort which will see three other battalions led by Canada, Germany and Britain deployed to the three Baltic States to reassure the Alliance's eastern allies in the face of a more aggressive Russia.
Despite stepping up defenses, NATO chief Jens Stoltenberg said in his opening speech on Friday that the Alliance "does not seek confrontation."
"Russia is our biggest neighbor and the integral part of European security," he said, adding that NATO would continue dialogue with the Kremlin.
"We don't want a new Cold War. The Cold War is history and should remain history."
Ahead of Friday's summit, Merkel supported NATO's increased military presence on its eastern flank.
"In the east, Russia has deeply unsettled our allies by its actions in Ukraine," Merkel said. "They now need a clear reassurance through the Alliance," Merkel added, urging "visible and reliable" solidarity with other NATO members.
Anti-terrorism and Brexit
In response to NATO expansion, Russian officials often cite a 1997 agreement when NATO pledged not to create permanent bases in former eastern bloc states. US officials, however, claim that the troops would be rotated rather then stationed permanently.
Other topics on the agenda at the NATO summit include anti-terrorism efforts in Iraq and the rest of the Muslim world, the mission in Afghanistan, and defense spending. The UK's impending Brexit and cooperation with the European Union are also expected to be discussed.
ksb/kms (dpa, AFP)