African foreign ministers and African Union officials have gathered in Washington for a high level conference hosted by the US Department of State. On the agenda are issues around trade, security, governance and the US relationship with African countries. DW spoke to Donald Yamamoto, the acting Assistant Secretary of State for African Affairs.
DW: How significant is Africa in the administration of President Donald Trump?
Donald Yamamoto: Right now this is our fifth kind of conference for the African Union. I've been in Africa for over 24 years and this is probably the most complex and in-depth coordinated issue meeting that I've been associated with. And the reason why, is because over the years the depth and breadth of our relationship with the African Union has really expanded. So with every successive administration, we're taking on more issues, more challenges, more coordination. And it's continuing now under Secretary of State Rex Tillerson. So this actually highlights the work we're doing in Mali and the G5 countries, Somalia, Sudan, the Democratic Republic of Congo on elections and transition, the Kenyan elections, Liberia and also Zimbabwe.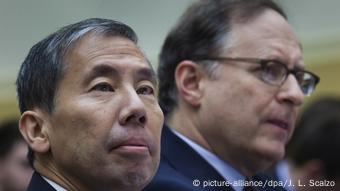 Donald Yamamoto (l.) is the US Acting Assistant Secretary of State for African Affairs.
Will we see any significant changes, shifts in the US-Africa strategy, and if so, which ones?
I think one of the changes - I wouldn't say changes, but emphases - is, Tom Shannon provided a speech on behalf of the US government about the four pillars: the economic development, security, trade and investment, education and security issues. But right now we are looking at Africa in the future in 2050, 2100 and you see a 2.2 billion to 2.4 billion population. You have 70 percent under 30 but then the question is: are we preparing our policies to work with not only the African Union, but our African partner countries to address unemployment issues? You know education, health care, and giving opportunities to the youth. Because that in itself is really an important critical issue. So how many jobs are we going to create every month to address that population in that area? And 25 percent of the world's labor force is going to be African. Just looking at the data points is really mind boggling. This is going to be the most populous continent and the largest consumer. And if that's the case then we need to be prepared to look at what the challenges are. How do we partner up with Africa?
Read more: Trump envoy Nikkin Haley on first Africa trip
US military engagement in Niger and Africa: 3 things to know
President Trump has removed the US from several multilateral trade deals. What happens with fundamental programs like the African Growth and Opportunity Act (AGOA)?
AGOA continues until 2025. The issue is that AGOA is a transition and we've learnt that assistance by itself is not sustainable. The other issue is, that we can give to the most favored nations et cetera, but what's really going to be critical, is for each of these African states to break down non-tariff trade barriers. Because if you look at who their best trading partners are, it's Europe [and countries] outside the continent. Those relationships are critical. However, if you really want to talk about economic dynamism, then you need to trade with each other. So if these regional states are not trading with each other because of all these non-tariff trade barriers and obstacles, why don't you cut them down? We calculate that over the next decade, you can generate a hundred billion dollars in added new economic dynamism that's going to help to be the basis for economic development, great job creation and also economic vitality. And that's just by doing technical things like ending non-tariff trade barriers, fighting corruption, and also allowing entrepreneurs to develop and grow.
What about presidential aid initiatives like George W. Bush's PEPFAR or Obama's Power Africa initiative. Do we need to expect any cuts there?
I delivered an analysis on our budget for 2018 to the Congress and we are initiating cuts. But the proportion of assistance or investments in each area: healthcare remains at 81 percent, peace and security remains at 7 percent. And so it goes on down the line to education, democracy, good governance, Power Africa and the Young African Leaders Initiative (YALI) - proportionally those remain the same. But the amounts have decreased. But I'll give you an example: YALI is probably one of the great benefits that was implemented under the last administration and it continues. We have 500,000 youth groups across Africa that have been coordinated into groups and organizations to help support each other, address questions and issues. Every year we're taking about 700. But the number of applications was 84,000. That's amazing. I mean it's harder to make YALI than it is to go to some of the universities in America. And 'Power Africa' really is the hallmark and the centerpiece. Because without electrification, you're not going to be able to generate the economic progress that we need to propel Africa into the future. So, 'Power Africa' continues and we really need that to up our game and integrate and interrelate with a lot of private businesses and corporations. So that's going to continue.
Another big topic is military strategy. Since the attack on US troops in Niger last month, US military presence and intervention in Africa has stirred some controversy. There is more US military personnel in some countries than US development and aid workers. How can you justify that?
Our aid and assistance levels for Niger continue particularly in healthcare, and we're talking about education and development. So on the military side, in the State Department - and we're not talking about the Department of Defense - we have trained over 300,000 African troops for peacekeeping operations. 100,000 have served or continue to serve. 30,000 are in UN operations. And the US military helps support through "train and assist", and helps complement and supplement what the US State Department is doing. One more data point is that 63 percent of all UN operations are in Africa. 70 percent of the UN troops are Africans and we continue as a State Department to train and support. So this is not Afghanistan, this is not Iraq. And these are exactly the needs that the African states have asked us for.
Donald Yamamoto is the US Acting Assistant Secretary of State for African Affairs. He spoke to DW on the sidelines of the Ministerial on Trade, Security and Governance in Africa meeting in Washington D.C.