Jubilant crowds flooded the streets of Ghana's capital Accra during Obama's first visit to Africa as US president. Even members of Ghana's parliament rose to chants of "Yes we can" when he addressed them.
"I have the blood of Africa within me. My family's story encompasses both the tragedies and triumphs of the larger African story," Obama said, referring to his heritage as the son of a Kenyan father.
In his speech, he called on Africans to take their fate into their own hands, shun corruption and demand accountability from their leaders.
"Make no mistake, history is on the side of these brave Africans and not with those who use coups or change constitutions to stay in power," he said.
More words less action
"It was very influencial as a speech at that moment," Alex Vines, head of the Africa program at British thinktank Chatham House told DW. "Some of the thoughts and prescriptions in there will last."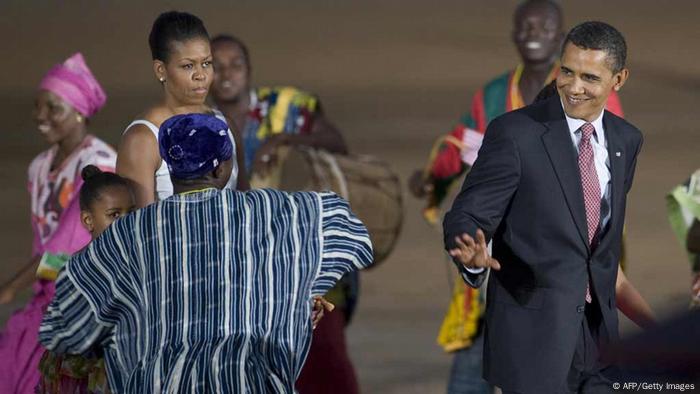 Excitement was high when Obama visited Ghana in 2009
But the excitement did not stop. Obama still drew large crowds on subsequent visits, but many Africans are disappointed about his performance. Many feel that he failed to live up to the lofty promises he made in his speeches. Analysts take a more differentiated look at his performance.
"I give him six points out of ten for his involvement with Africa," Kenyan political analyst Martin Oloo told DW. Obama understood Africa's problems and challenges well, Oloo said. "He would have done more if there would have been a more enabling environment for him."
But faced with a growing economic crisis at home, rising unemployment and foreign policy hotspots such as the wars in Afghanistan and Iraq, Obama struggled to find time for Africa in the first years of his presidency. Ghana was the only African country he visited during his first term.
He did try to make up for it in the later years of his presidency. In early 2012, he released a new Africa strategy that declared the continent a potential economic success story. He travelled to Senegal, South Africa and Tanzania a year later. In 2015, he paid a much-awaited visit to Kenya, his father's homeland. He also became the first sitting US president to address the African Union.
Criticism from human rights groups
The US government also sent special forces to Central Africa to hunt down Ugandan warlord Joseph Kony. Obama also intervened repeatedly in the Sudan crisis, especially to salvage the referendum on South Sudan's independence in 2011.
Obama continued to emphasize his key themes of democracy, human rights and the rule of law on all his trips to Africa. But critics note that actions often did not follow words.
"Overall the Obama administration provided strong support for civil society, media freedom and LGBT rights in Africa," wrote Kenneth Roth, executive director of Human Rights Watch, in a recent commentary.
"However, as authoritarian rulers gained a greater foothold on the continent, Washington was inconsistent in matching Obama's early and apt observation that Africa needs 'strong institutions, not strongmen' with concrete actions."
Successfull US Africa summit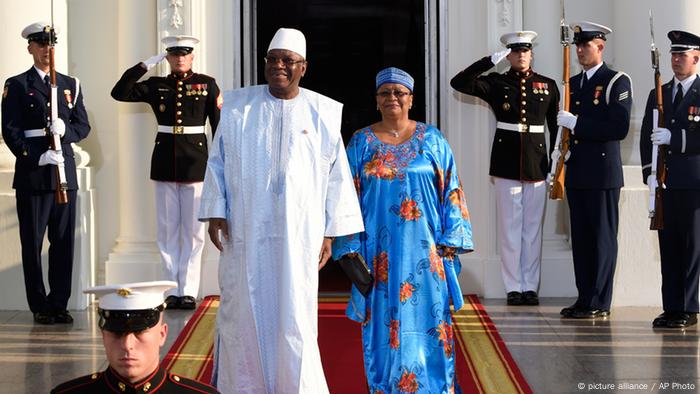 Fifty African leaders attended the first US Africa summit
But Kenya's Martin Oloo thinks there was little Obama could have done.
"He was also constrained by Africa's other problems: poor accountability, poor governance and leadership challenges. You have a leadership that is not responsive," he said.
Obama also drew criticism from human rights organizations for US intelligence cooperation with countries such as Sudan and Ethiopia. He also continued US drone strikes against alleged Islamic militants in Somalia, begun by his predecessor George W Bush.
He was also the host of the first US-Africa summit in August 2014 that brought some 50 African leaders to Washington. At the summit, Obama lauded Africa as a continent of opportunities and announced a $33 billion (31 billion euros) investment package for Africa.
"Underpinning it was a shift of US policy moving away from being particularly focused on humanitarianism and counterterrorism to emphasizing that Africa was a continent of the future and it was also about trade and growth," said Alex Vines of Chatham House.
For Vines, its clear what parts of President Obama's Africa policy will be remembered. "It will be trade rather than aid or security. That is President Obama's key Africa legacy in my opinion, " he said.
Friederike Müller-Jung contributed to this report