Treasury Secretary Steven Mnuchin said the US would not be issuing any waivers to American oil companies seeking to drill in Russia.
"In consultation with President Donald J Trump, the Treasury Department will not be issuing waivers to US companies, including Exxon, authorizing drilling prohibited by current Russian sanctions," the Treasury Department head said in a statement.
The announcement followed reports that US oil giant Exxon Mobil had requested sanctions to be waivered on its Russia ventures, as it sought to resume a joint project with the Russia state-owned energy company, Rosneft.
The US raised sanctions on Russia back in 2014 under then President Barack Obama in response to it annexing of the Crimea region of Ukraine. As part the restrictions, US oil firms are barred from transferring industry knowledge and technology allowing for more efficient offshore drilling and in shale formation to Russian counterparts.
In a statement, Exxon said it understood the government's decision but warned that it would only serve to help European energy companies, operating under looser Russian sanctions, to gain an upper hand in the region.
"Our 2015 application for a license under the provisions outlined in the US sanctions was made to enable our company to meet its contractual obligations under a joint venture agreement in Russia, where competitor companies are authorized to undertake such work under European sanctions," Exxon's statement said.
Rosneft officials have revealed that Italy's energy giant Eni plans to begin drilling in the region where Exxon had initially hoped to.
Exxon had previously said in regulatory filings that it expects the losses incurred by the US' sanctions on Russia to be in the region of $1 billion (932 million euros).
Under Treasury Department rules, the US oil giant would be allowed to resubmit its waiver request on Russian sanctions it if provides additional information that the government had not previously reviewed.
Read more: ExxonMobil CEO Rex Tillerson's close ties with Russia
An awkward position for Tillerson
Exxon had seen a previous waiver request rejected by the Obama administration in 2015. However, according to the Wall Street Journal newspaper, the energy giant had begun pressuring the Treasury for special grants to drill in the Black Sea region back in March, shortly after its former CEO Rex Tillerson was appointed as the new US Secretary of State by President Donald Trump.
As Exxon CEO, Tillerson had forged close relations with Russian President Vladimir Putin and Rosneft executives. The Secretary of State had recused himself from the Treasury's decision.
Despite the Treasury's decision, Trump has pledged to bolster the US oil sector by promoting exploration and slashing regulations.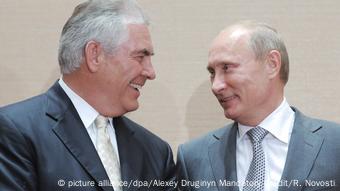 Tillerson and Putin: no longer comrades
Relations sour
The Treasury's decision will do little to warm relations between Washington and Moscow, which have soured following a US missile strike on a Syrian air base earlier this month. Trump said the strike was carried out in retaliation to an alleged chemical attack on Syrian civilians and rebel fighters.
On a visit to Moscow to hold talks with his Russian Foreign Minister Sergei Lavrov last week, Tillerson had hoped to convince Moscow to end it support of Syrian President Bashar al-Bassad. However, the talks amounted to little. Russia's top diplomat went on to decry the US' "contradictory" foreign policy, while President Putin said he believed relations between the two countries had - contrary to popular belief - deteriorated during the Trump administration.
Despite this, congressional and federal investigations over allegations that Russia had sought to tip last year's election in Trump's favor remain ongoing.
dm/bw (AP, AFP)