Trump, the billionaire businessman, now faces a three-way struggle for the Republican nomination with Ohio Governor John Kasich and Senator Ted Cruz of Texas.
Senator Marco Rubio dropped out of the race after a decisive defeat by Trump in his home state of Florida.
"After tonight, it is clear that while we are on the right side, this year we will not be on the winning side," Rubio told supporters as announced he was quitting the race. "I ask the American people - do not give into the fear, do not give into the frustration," he said, taking a parting shot at Trump's rhetoric.
Kasich clings on after Ohio win
But Kasich, who has trailed in most contests to date, won all 66 of Ohio's delegates. The result gives new hope to establishment Republicans battling to deny Trump the nomination and block him from capturing the 1,237 delegates needed to win the nomination.
"We know that we need to unite this country and be Americans and not spend our time dividing people in this country," Kasich told CNN television in a swipe at Trump whose campaign has vowed to deport undocumented immigrants and bar non-citizen Muslims from entering the US.
Trump took Florida, North Carolina and Illinois and he told supporters that "something is happening" in the Republican Party that is being noticed "all over the world."
Missouri remained too close to call with Cruz and Trump neck and neck, although Trump appeared to be in the lead according to some counts.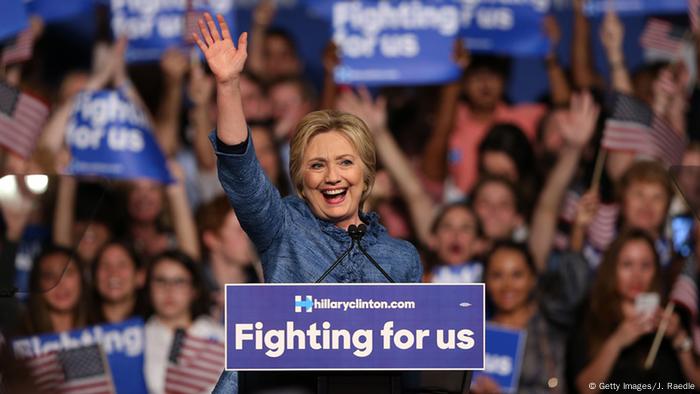 Democratic presidential candidate, former Secretary of State Hillary Clinton speaking to her supporters in Florida
Clinton cleans up, looks to November
For the Democratic Party, former Secretary of State Hillary Clinton won against her rival, Senator Bernie Sanders of Vermont in Florida, North Carolina, Ohio and Illinois. Results from the primary in Missouri appeared to be a tie .
"We are moving closer to securing the Democratic Party nomination and winning this election in November," Clinton told supporters at a victory rally in West Palm Beach, Florida.
Her campaign had been rattled since last week's startling upset when she lost the industrial state of Michigan to rival Sanders.
But a visibly more confident Clinton shifted her focus quickly to November's general election by attacking Trump's anti-immigrant stance and support for torture.
"Our commander-in-chief has to be able to defend our country, not embarrass it," she said.
Sanders did not address his disappointing showing. Instead, he continued to deliver his message assailing the widening disparity in wealth and vowed to empower ordinary Americans who he says have been sold out by the political elite.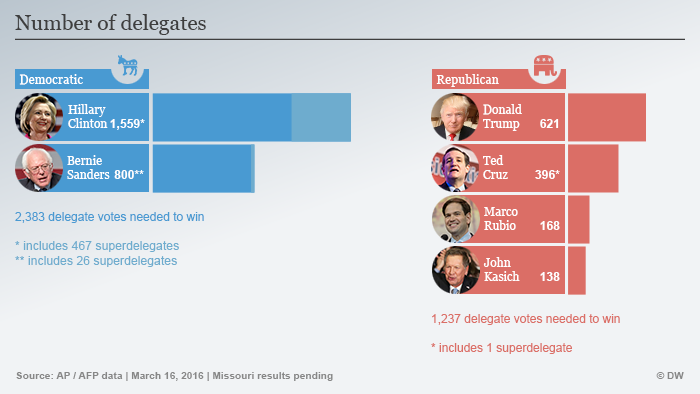 jar/jm (AP, AFP, Reuters)