NATO's International Security Assistance Force (ISAF) shuttered its combat command Monday, formally ending its deployment in Afghanistan more than 13 years after invading the country in the aftermath of September 11.
The fighting in the war-torn country, however, will likely not be over any time soon. A residual force of roughly 13,000 mostly American troops will remain in the country into next year, and US president Barack Obama has given approval for the American troops to not only train Afghan security forces, but to go after both al Qaeda and Taliban troops.
As ISAF lowered its flag in Kabul, US General John F. Campbell, commander of the NATO and US forces said the focus of foreign troops will shift to training and supporting local Afghan forces.
"The Afghan security forces are capable," said commander of NATO and US forces General John F. Campbell. "The have to make some changes in the leadership which they're doing, and they have to hold people accountable."
At its peak in 2011, roughly 140,000 coalition forces were stationed in Afghanistan.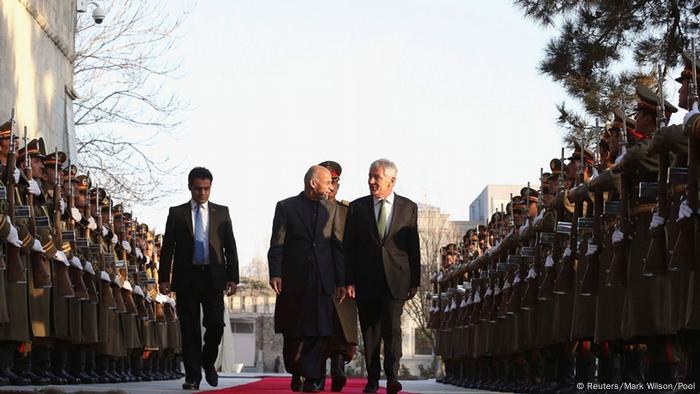 Afghanistan recently signed a security agreement with the US, which will see nearly 11,000 American troops remain in the country into 2015
New attacks
The closing of the ISAF command comes as Taliban militants stormed a police compound in Kandahar's Maiwand district on Monday, killing four civilians and two security officers, a spokesman for the provincial government said.
As Afghan security forces take on more responsibility, they are confronted with an increased threat of casualties. 4,634 Aghan security forces have been killed thus far this year compared to 4,350 in 2013, or roughly 6 percent. By comparison, about 3,500 ISAF forces have been killed since the start of the war in 2001.
Violence continues to plague the country, and the last few months have seen an uptick in attacks after newly-elected President Ashraf Ghani concluded a security deal with the United States providing for American troops to remain in the country into 2015.
Taliban spokesman Zabihullag Mujahid said his group would continue fighting "until all foreign troops have left Afghanistan."
"The Americans want to extend their mission in Afghanistan, the motive being to keep the war going for as long as possible," Mujahid said. "And for as long as they do, the Taliban will continue their fight against the foreign and (Afghan) government forces."
Afghan political analyst Wahid Muzhdah believes the fighting will not be over any time soon, and may increase as the winter approaches.
"I don't think the war will slow or stop during the winter, as attacks on cities are not contingent on the weather," Muzhdah said. "I believe attacks in the cities will increase - they will attract media attention."
bw/es (AP, Reuters, dpa)