"Both the FBI and NSD [National Security Division - a division of the Department of Justice] confirm that they have no records related to wiretaps as described by the March 4, 2017 tweets," the department said in a court filing, referring to tweets sent by President Donald Trump alleging that former President Barack Obama had tapped his phone in Trump Tower ahead of the election.
The filing was in response to a freedom of information request by American Oversight, a government watchdog that has been seeking proof of Trump's claims.
The FBI had dismissed the president's claims, which were made as a controversy over alleged links between Trump's campaign team and Russia intensified. The FBI's director at the time, James Comey, said there was no evidence of a wiretap at Trump Tower.
Trump is facing several investigations into alleged collusion between members of his campaign team with Russian officials, and made the claims in March in what appears to have been an attempt to throw them off the scent.
Austin Evers, executive director of American Oversight, said, "The FBI and Department of Justice have now sided with former Director Comey and confirmed in writing that President Trump lied when he tweeted that former President Obama 'wiretapped' him at Trump Tower.
"This filing confirms that even Trump's own Department of Justice does not believe he has credibility on a key element of the Russia investigation," Evers said.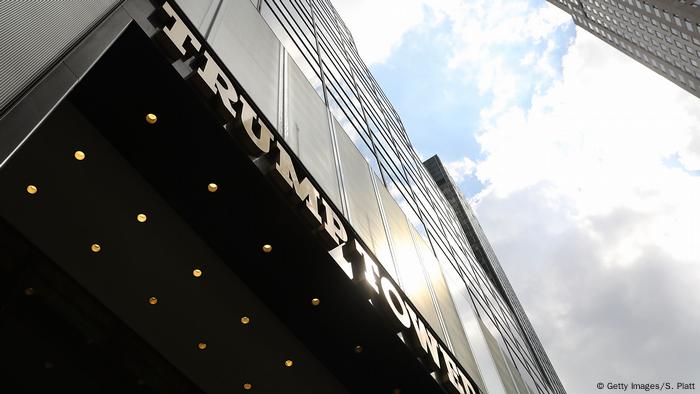 Trump alleged Obama had bugged Trump Tower in Manhattan
Trump's claim
In March, Trump claimed that Obama "had my 'wires tapped' in Trump Tower" prior to Election Day [on November 9] and made similar assertions in several other tweets.
"Terrible! Just found out that Obama had my "wires tapped" in Trump Tower just before the victory. Nothing found. This is McCarthyism!" Trump tweeted on March 4.
"How low has President Obama gone to tapp [sic] my phones during the very sacred election process. This is Nixon/Watergate. Bad (or sick) guy!" he added.
He repeated the claim during a White House press conference with German Chancellor Angela Merkel later in March.
Trump's former spokesman Sean Spicer also defended the claim and cited a Fox News report which alleged that Britain's GCHQ spy agency did the wiretapping for Obama.
jbh/sms (AP, AFP)