Dempsey said on Tuesday that the involvement of Iranian-backed Shiites in pushing "Islamic State" (IS) out of Sunni areas of northern Iraq could be "a positive thing" - provided it did not exacerbate sectarian tension.
The general, who is chairman of the US Joint Chiefs of Staff, told US senators that Iran's military assistance for Shiite militia was nothing new, having been a reality since 2004.
However, he said, it was now being carried out in a more open manner, with Iraqi forces pushing to retake the city of Tikrit from IS.
"This is the most overt conduct of Iranian support, in the form of artillery and other things," Dempsey told members of the Senate Armed Services Committee. "Frankly, it will only be a problem if it results in sectarianism."
Baghdad officials claim the force sent to win back the city totals some 30,000 troops. Dempsey said about two-thirds of the force was Iranian-based and armed Shiite militia, with Iraqi government forces making up the remainder.
'Stepping stone' to Mosul
The Senate committee also heard from US Defense Secretary Ash Carter, who claimed a US briefing in February - which said the Iraqis might launch an attack on Mosul in April or May - had been a mistake.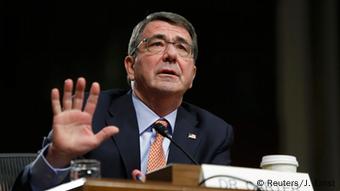 Ash Carter admitted that comments about an attack on IS in Mosul should not have been "blurted out"
Carter said the information was inaccurate and that, in any case, it should not have been "blurted out" to reporters.
As Iraqi forces closed in on Tikrit on Tuesday, they found their progress hampered by militant sniper positions and booby traps.
"They are using urban warfare and snipers, so we are advancing in a cautious and delicate way, and we need more time," a lieutenant general on the ground told the AFP news agency.
Forces are reported to be moving in on Tikrit - 160 kilometers (100 miles) north of Baghdad - from several directions, with the plan being to encircle the militants. Commanders say the operation in Tikrit is a stepping stone for the mission to free Mosul, a major hub for IS and the largest town within its self-declared caliphate.
rc/kms (AP, AFP)