Congressional Democrats said on Monday that Steve Linick, the State Department inspector general fired by President Donald Trump last week, was investigating possible impropriety in a massive arms sale to Saudi Arabia last year, raising new questions about the watchdog's abrupt dismissal.
Democrats previously suggested the dismissal might have been tied to Linick's investigation of allegations that Secretary of State Mike Pompeo may have improperly ordered staff to run personal errands for him.
Eliot Engel, the chairman of the House Foreign Affairs Committee, said he was troubled that Linick was fired before the completion of the Saudi investigation. Engel had called for that probe after Pompeo in May 2019 invoked a rarely used provision in federal law to bypass a congressional review of arms sales to Saudi Arabia and the United Arab Emirates.
"His office was investigating _ at my request _ Trump's phony declaration of an emergency so he could send weapons to Saudi Arabia,'' said Engel. "We don't have the full picture yet, but it's troubling that Secretary Pompeo wanted Mr. Linick pushed out before this work could be completed."
'Absolute right'
Trump last week fired Linick, saying he had lost confidence in the watchdog's ability to serve. The president did not give a reason for his loss of confidence but said in a letter late Friday that his removal would be effective in 30 days.
Pompeo told The Washington Post on Monday that he had recommended to Trump that Linick be removed because he was "undermining" the State Department's mission. He would not address specifics except to say it was not in retaliation for any investigation.
Trump confirmed Monday that he fired Linick at Pompeo's request. "I have the absolute right as president to terminate. I said, 'Who appointed him?' And they say, 'President Obama.' I said, look, I'll terminate him," Trump said at the White House.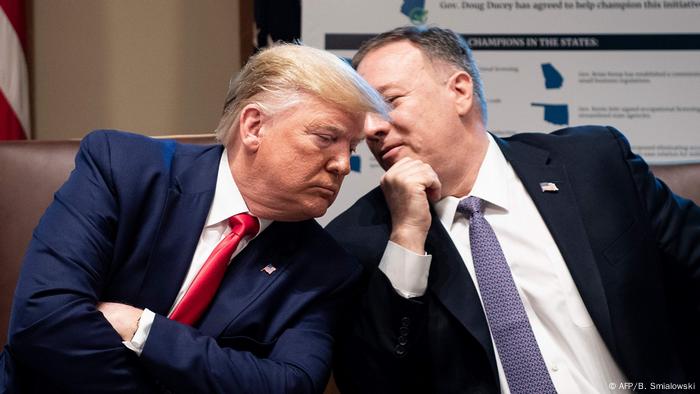 Pompeo said he had recommended to Trump that Linick be removed because he was "undermining" the State Department's mission
String of dismissals
Linick, who was appointed inspector general in 2013 during the Obama administration, is the latest in a series of independent government watchdogs to be ousted in recent weeks.
Earlier this month, the president ousted Christi Grimm — who had been leading the Department of Health and Human Services Office of the Inspector General — after she identified serious medical shortages in hospitals dealing with COVID-19 patients.
That followed Trump's sacking in April of Glenn Fine, a top coronavirus watchdog whose job it was to monitor the government's financial relief response to the pandemic. Also last month, Trump notified Congress he was firing Michael Atkinson, the inspector general of the US intelligence community who was involved in launching last year's impeachment probe into the president.
According to broadcaster CNN, Linick also played a "small" role in impeachment proceedings against Trump.
The US State Department said Linick would be replaced by Stephen Akard, the director of the Office of Foreign Missions.
see/sri (Reuters, AP, AFP, dpa)
Every evening at 1830 UTC, DW's editors send out a selection of the day's hard news and quality feature journalism. You can sign up to receive it directly here.