Environment ministers from around the world arrived in Cancun on Tuesday, replacing their lower-level negotiators and hoping to wrap up a deal by Friday night.
A major sticking point to any potential deal has been the fact that the US and China are not signed up to the accord.
"There is a challenge that not everyone is part of the Kyoto Protocol", EU Climate Commissioner Connie Hedegaard told a press conference in Cancun.
But as the talks enter the final stages, China and the US have confirmed their commitment to emissions reductions – a move that could save the talks.
Developing countries have said they won't move towards any new treaty until members of the Kyoto Protocol agree to extend the treaty beyond 2012.
But Japan, Russia and Canada have refused to extend Kyoto without the participation of the world's two top polluters - China, which has no requirements as a developing country, and the United States, which rejected the treaty in 2001. Together, China and the US emit about 40 percent of the world's greenhouse gases. Japan, Russia and Canada want a separate agreement regulating all nations.
"There are huge concerns about the position of Japan. We're seeing some signals of possible flexibility from the Japanese, but the Japanese have to not stand in the way of a decision that reaffirms a second commitment period," Alden Meyer from the Union of Concerned Scientists told a press conference in Cancun.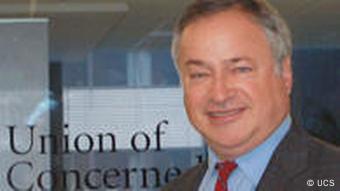 Meyer is concerned about Japan's position
Game-changer
In an apparent about turn, which could potentially save the climate talks, China announced on Monday that it would be prepared to make emissions reductions binding.
"We can create a resolution and that resolution can be binding on China," said Huang Huikang, the Chinese foreign ministry's envoy for climate change talks, in an interview with Reuters.
China's offer to make its existing, domestic pledge to reduce its "carbon intensity" - the amount of the main greenhouse gas, carbon dioxide (CO2), emitted for each dollar of economic growth - binding under a UN resolution is a compromise it hopes will encourage developed countries to continue the existing Kyoto Protocol.
"China wants to avoid a collapse of the talks," Ruth Davis from Greenpeace told Deutsche Welle. "They're trying to create a landing space for Japan to come back on board without losing face".
China's target would still be voluntary, stressed China's chief negotiator Xie Zhenhua, in contrast to developed nation targets under Kyoto. Targets for developed countries are imposed by the international community, but Beijing's targets would be offered to the community by China.
Analysts were generally positive about China's proposal. "This is a game-changer," said Jennifer Morgan from the Washington-based World Resources Institute.
But the details of China's pledge remain unclear.
"China may ask for different conditions to developed countries whose emissions reductions are subject to international scrutiny and monitoring," Ruth Davis told Deutsche Welle.
China in the past has refused to be part of a binding agreement involving outside verification that it is making good on its pledges to curb emissions.
Low key US appearance
US involvement is also seen as a linchpin for an international agreement.
"There can be no doubt that in the European Union, we have time and again told our American friends why we thought it was very important that they engage in this agenda," said EU Climate Commissioner Connie Hedegaard.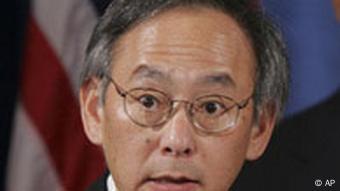 Chu reaffirmed Obama's commitment to fighting climate change
On a brief visit to Cancun, US Energy Secretary Steven Chu confirmed that President Barack Obama was committed to meeting US pledges made in Copenhagen to curb carbon emissions from 2005 levels by 17 percent by 2020.
"He absolutely feels that moving toward a clean energy economy is really about our energy security and about our financial security," Chu said. "It's about our economy; it's about the future of the planet."
This is despite the Republican Party's election victory last month, which says forced emission cuts would hurt a fragile economy. Some Republicans also doubt the science behind climate change. This all but ended the prospect of the United States approving legislation to restrict carbon emissions.
Chu highlighted efforts by the Obama administration to encourage low-carbon technology, including 90 billion dollars towards clean energy in its economic stimulus package. The administration has set up research laboratories for green research and offered tax incentives to pursue eco-friendly energy.
Air of optimism amid diplomatic leaks
Environmentalists seem to agree that there is a more hopeful tone at this year's talks in Cancun.
"Over the past week, we have seen a vastly improved atmosphere in these talks than we've seen over the past year," said Wendel Trio, Greenpeace International's Director of Climate Policy.
Mexico has so far received plaudits for running an open process that has kept the mood at the Cancun talks more positive than in Copenhagen where major global powers negotiated behind closed doors, a move that irked many developing countries.
But disclosures by WikiLeaks this week threatened to sour the mood. The leaked memos showed that the United States and European Union worked together aggressively to sell the Copenhagen deal last year.

Delegates have until the end of the week to forge an agreement on how to tackle climate change
In one cable, reported by the British newspaper The Guardian, Hedegaard is quoted as telling a US official that small island nations "could be our best allies" as they need financial assistance from wealthy states.
The goal would be to step up pressure on developing countries such as India and Brazil to sign up. Such emerging powers have taken growing action on climate change but stated adamantly that the measures are voluntary and that rich nations bear historic responsibility for the problem.
A leaked cable also said the European Union and United States looked at ways to "neutralize, co-opt or marginalize" countries seen as "unhelpful" - particularly Venezuela and Bolivia, which have raised persistent objections during climate negotiations on issues both of substance and process.
Asked about the leaks, Hedegaard said that the cables offered a "one-sided and selected" US account of conversations.
She denied any untoward pressure toward the most vulnerable nations such as Maldives, saying: "For many reasons we want to work very much with them."
Hedegaard said she did not believe the disclosures would hurt the Cancun talks, saying everyone knows "that you discuss a lot of things" in negotiations.
But Bolivian negotiator Pablo Solon said he was "greatly concerned" by the disclosures.
The cables "confirm what we've always been saying and the United States has been denying: the interference, pressure and blackmail regrettably conducted by the US administration," he said.
Author: Natalia Dannenberg (dpa, AFP, Reuters)
Editor: Susan Houlton