Nigeria has been rocked by an unprecedented series of attacks. On Wednesday morning (16.04.2014) suspected Islamist extremists attacked a village in the northeastern state of Borno, killing 18 inhabitants, according to media reports quoting security sources. A day earlier, more than 100 female students were abducted from their boarding school in Borno. On the same day, unknown assailants killed a traditional leader and his security guard, also in the northeast. Just a week earlier another traditional ruler, the emir of Gwoza district, is reported to have appealed to the central government for help. On Monday morning, a bomb attack at the central bus station on the outskirts of the capital Abuja killed more than 70 people.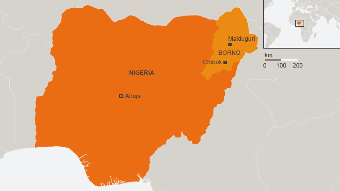 More than 100 schoolgirls were abducted in Chibok in northeast Nigeria
There have been no claims of responsibility for any of these attacks. However, Nigeria's President Goodluck Jonathan lost no time after the Monday bombing in accusing Islamist sect Boko Haram, which has been terrorizing northeastern Nigeria for the last five years.
"The issue of Boko Haram is quite an ugly history but we will get over it. The issue of Boko Haram is temporary," Jonathan said at the site of the bombing.
The current series of attacks dramatically contradicts the president's words. They demonstrate how helpless the Nigerian state is in the face of the growing violence. This year alone, an estimated 1,5000 people have been killed in attacks attributed to Boko Haram. All teaching was suspended in Borno several weeks ago. In a reaction to the increasing frequency of attacks by the Islamist extremists against schools they regard as western-oriented. The kidnapped schoolgirls had only just returned to their boarding school to take their final examinations.
Kidnappers were disguised as soldiers
The kidnappers claimed to be soldiers who had come to take the students to a place of safety as they had been alerted to an imminent attack. Only when they had boarded the waiting trucks and buses did the girls realize they were being kidnapped. Some escaped by jumping out of the moving trucks. The others were taken to an unknown destination.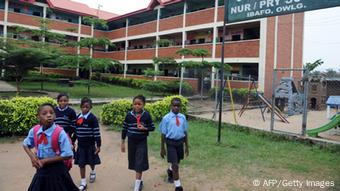 Fear is growing among parents that their children's schools could be targeted
There are reports that Boko Haram extremists deliberately kidnapped schoolgirls in the past to force them to work for them and abuse them as 'sex slaves.'
These events take terror in Nigeria to a new level. "The pattern of attacks has changed," security expert and former major in the Nigerian army, Yahaya Shinku, said in an interview with DW. The frequency and range of the attacks has increased. They now target not only Boko Haram's stronghold in the northeast but also other parts of Nigeria, including the capital.
The most dramatic change, observers say, is that the terror has become indiscriminate. "There is no recognizable plan in the choice of targets," says Hildegard Berendt-Kigozi, head of the German Konrad Adenauer Foundation in Abuja. For a long time Boko Haram attacks had mainly been directed against representatives of the state, such as members of the military or police, or against schools. The group's main demand is an independent state in North Nigeria governed according to their radical version of Islam. However, several villages in the north have also been attacked and Muslim residents murdered.
A pre-election plot?
There was also no recognizable motive for Monday's attack against commuters in Abuja "other than the general destabilization of Nigeria," says Berendt-Kigozi. "Any terrorist group seeking to impose its ideology would damage its credibility with such attacks."
Nigeria's two main political parties, President Jonathan's People's Democratic Party (PDP) and the opposition All Nigeria People's Party (ANPP), have long been trading mutual recriminations of making political capital from the Boko Haram terror or even supporting the group. The president even intimated there was a plot aimed at reducing his prospects of re-election. In January 2014 he fired the entire army leadership and the defense minister, blaming the latter for the escalating violence.
Increasing polarization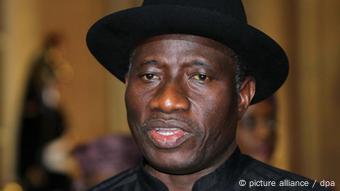 President Goodluck Jonathan is hoping to be re-elected in 2015
Opposition members say the government shares responsibility for the terror which makes it difficult for people living in the mainly Muslim north to take part in the elections. Major Yahaya Shinku also suspects there is a connection between the latest wave of terror and the presidential elections scheduled for February 2015. He says it will be difficult for the Electoral Commission to work in the affected areas. "Many employees will not be prepared to risk their lives if the Commission is threatened."
So far there are only theories but no conclusive evidence showing why Boko Haram has embarked on this new strategy or who else could be behind the indiscriminate violence. There is a lack of clarity about the causes and what would be an appropriate response to them, says Berendt-Kigozi. What is visible is the effects the terror is having on society at large. The population is becoming increasingly polarized. Nigeria is populated roughly equally by Christians and Muslims. "For one side, there's no doubt that it's all due to Islamist extremists, to Boko Haram," says Berendt-Kigozi. But for others it's far from clear. They do not believe that Islamists would kill fellow believers. And while Berendt-Kigozi hopes the Abuja bombing will unite Nigerians against terror, she fears that "society will only become more polarized."