The image of the United States is in sharp decline across the world under the leadership of Donald Trump, a survey from the Pew Research Center shows.
The survey, which covered 37 countries, showed US favorability ratings dropping to 49 percent just five months into Trump's presidency. This compares with 64 percent at the end of his predecessor Barack Obama's 8-year term in office.
Read: 'Treat Donald Trump like a normal politician who is wrong about everything'
Trump himself scored even lower in the survey, with just 22 percent of respondents saying they trusted him to do the right thing in international affairs, compared with 64 percent for Obama.
The only two countries that saw ratings improve for Trump over Obama were Russia, where confidence in the US president rose to 53 percent from 11 percent, and Israel, where there was an increase of 7 points to 56 percent.
Russia was also the only nation that the study found to have a large improvement in its image of the US, with 41 percent of Russians having a favorable view compared with 15 percent in 2017.
Arrogant, intolerant, dangerous?
Although 55 percent of the 40,447 people surveyed agreed with the description of Trump as a "strong leader," results for other character definitions were higher, including "arrogant" (75 percent), "intolerant" (65 percent) and "dangerous" (62 percent).
Read: Donald Trump and the art of creating chaos
Some of the sharpest declines in trust in the US president came among America's closest allies and neighbors.
In Germany, favorability ratings for the US slid by 22 points to 35 percent compared with the end of the Obama era. In Mexico, where many oppose Trump's plan to build a wall on the US border to keep out illegal immigrants, fewer than one in three - compared with a previous two in three - have a positive view of the US, while confidence in Trump himself was down to 5 percent. Domestic polls had registered a severe dip in Germans' trust of the US as a partner months ago.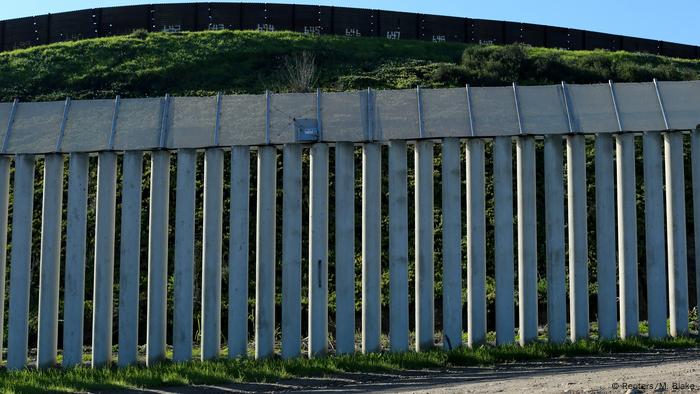 Just 16 percent worldwide support Trump's plan for a border wall
Both Russian President Vladimir Putin and Chinese President Xi Jinping were more popular globally than Trump, with confidence ratings of 27 and 28 percent respectively.
Of the four leaders covered in the opinion poll, German Chancellor Angela Merkel fared slightly better than her counterparts in Washington, Moscow and Beijing, although less than half the participants (42 percent) voiced trust in her.
tj/msh (Reuters, AP, dpa)