It was noisy on Ebert Square in Cologne on Saturday (24.05.2014). Hundreds of voices chanted "Her yer Taksim, her yer direniş!" - in English "Taksim is everywhere, resistance is everywhere!"
Tarek Mufti was standing a little apart, putting the finishing touches to his cardboard placard. "What should I write on it?" he asked Gönül Aksünger, standing beside him. They finally agreed on: "Tayyip Erdogan is a dictator." The two of them met on the train on the way to the demo. The young Syrian and the Turkish-born woman in her mid-forties have one thing in common: their anger at the Turkish prime minister.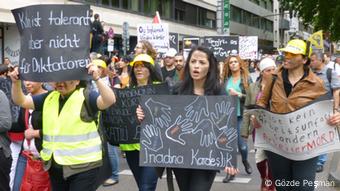 Around 30,000 showed up to protest against Erdogan
United by the motto "We say 'no' to Erdogan," the German Alawite community organization called on its supporters to protest outside Erdogan's speech venue: the cavernous Cologne sports arena. Around 30,000 people turned up. Gönül Aksünger thinks the injustices happening in Turkey are reason enough to protest against the country's prime minister. "He's using the idea of democracy," she told DW. "But we know well enough what he's done to the minorities in Turkey, what our families have witnessed."
To her, like many of Turkey's Alawites, Erdogan's visit is an insult. The Alawites are not recognized as a religious community in Turkey and are often discriminated against. People from all over the state of North Rhine-Westphalia showed up on Saturday. There were even placards in French and Dutch poking up from the crowds. The atmosphere was bullish and determined. The calls for Erdogan's resignation grew louder by the minute.
Blackened faces and pit helmets
Many came to express their solidarity with the miners killed and injured a week and a half ago in Soma, an incident often brought up in the criticism of Erdogan's Cologne visit. Özge K., for instance, doesn't understand how the Turkish prime minister can travel to Germany after such a tragedy. Like many of others, K. blackened her face and put on a yellow pit helmet in solidarity. "Stop saying nothing, if you keep saying nothing, you'll be next," was another common chant coming from the crowd.
On the other side of the Rhine, meanwhile, another, much smaller group of protesters gathered. The far-right parties Pro Cologne and Pro NRW set up an election stand in front of the main railway station. Of the 30 people who were meant to come, only around 15 appeared. Their slogans about so-called welfare benefit fraudsters have failed to gain much traction - even as they started, opponents and passers-by booed and whisted.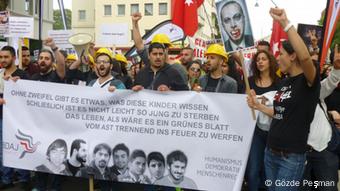 The Kemals and the Kurds don't usually see eye to eye
Meanwhile, on Ebert Square the last demonstrators joined the march through the city. There wa a diverse sea of flags: Turkish flags, some of them bearing the image of Kemal Atatürk, the founder of modern Turkey. Next to these, there were also flags bearing the logos of the German Green and socialist Left parties. But the various demonstrators don't always see eye to eye - next to Atatürk, there are also flags for Abdullah Öcalan, head of the Kurdish PKK party. When some young men start chanting "Long Live President Öcalan!" they got booed by the Kemalists, but otherwise the demonstrations remained peaceful.
Erdogan electioneering
16-year-old Destina was wearing a Kurdish flag draped over her shoulders. She learned of the protest on social media and showed up with her friends and family. She says there is no democracy in Turkey. The country has been taken over by Turkish nationalism and Islamization.
She doesn't believe that Erdogan is really here - as is officially the case - to celebrate the 10th anniversary of the Union of European-Turkish Democrats (UETD). "He's trying to collect votes for the presidential election," she said. Although Destina has both Turkish and German citizenship, she is too young to vote anyway. But still, she emphasized how important political engagement was: "If you want to change something," she said, "you have to act."